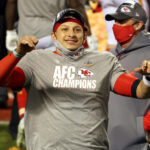 Details You Should Know About Patrick Mahomes
echo get_the_meta(); ?>
NFL fans are primed for what promises to be a spectacular Super Bowl on Sunday, February 7, 2021. Last year's champs, the Kansas City Chiefs, take on the Tampa Bay Buccaneers, and boy are the Bucs ready to make history. As CBS Sports reports, with former New England Patriot Tom Brady at the helm, the team from Tampa Bay will be the first-ever to be the home team at a Super Bowl. Brady himself will also be making personal history. The appearance will be his 10th at the big game, giving him the NFL record for the QB to have played the most Super Bowls. He's also one of only two QBs to have taken a team from each conference to the championship. And if the Bucs win, he'll be just one of two QBs to win a ring on two different teams. (Peyton Manning is the only one so far.)
As accomplished as Brady may be, he's not Superman. Brady and the Buccaneers definitely have their work cut out for them. Although they came back from a 17-point deficit to nearly beat the Chiefs when the two teams played each other in the regular season, a championship win is no guarantee. Not only are the Chiefs the reigning champs, they also have quarterback Patrick Mahomes leading their offense, and he is a force to be reckoned with. Here's what you need to know about this rising football star.
Born Patrick Lavon Mahomes II in Tyler, Texas, on September 17, 1995, Mahomes was a star athlete, and not just in football.
Patrick Mahomes' stellar college football career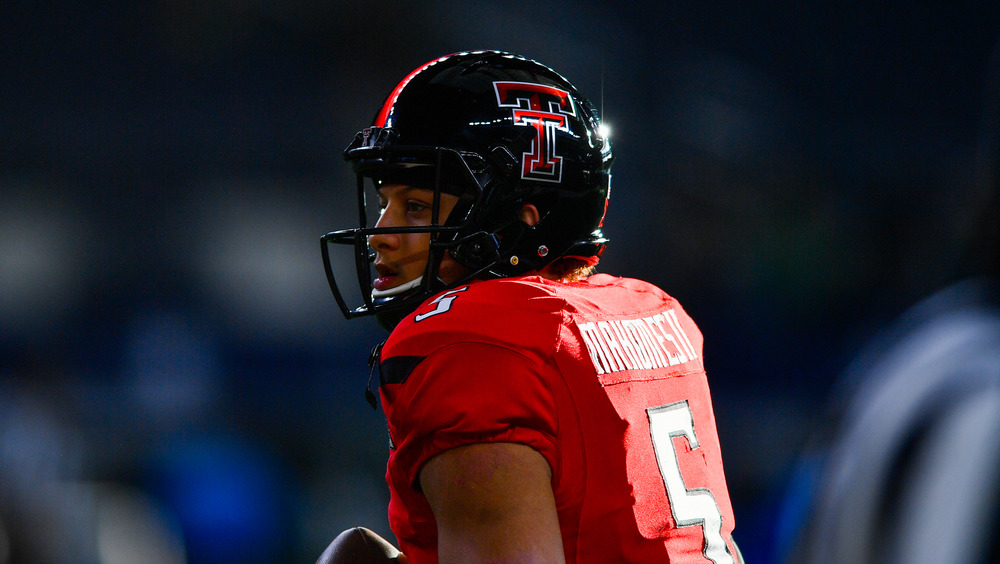 John Weast/Getty Images
According to Texas Tech University, where he played college football, he also played basketball and baseball in high school. He excelled at all the sports he played, so much so that he almost played in the MLB, not the NFL. In 2014, he was drafted by the Detroit Tigers, almost skipping college altogether, but he decided to play football and went to Texas Tech. (His dad, Pat, was also a baseball player. He pitched for the Minnesota Twins and other teams for 11 years.)
Mahomes excelled so much on the football field in college that he didn't even finish his degree. He skipped his senior year, went into the NFL Draft, and was picked up by the Chiefs. He left the school as one of the best QBs in its history, and may have ended up as number one on several records lists had he stayed. When he left he was third in the school's history in touchdown passes, passing yards, attempts, and completions. He had 22 rushing touchdowns, second on the list, as well as second in total touchdowns responsible for. During his final year at the university, he became the leading passer in the nation, something Tech QBs have been good at doing in recent decades.
Although he would have most likely broken several records at the school had he stayed, heading off to the big time to win a Super Bowl within three years was a pretty good decision in hindsight.
Patrick Mahomes' rapid rise to NFL greatness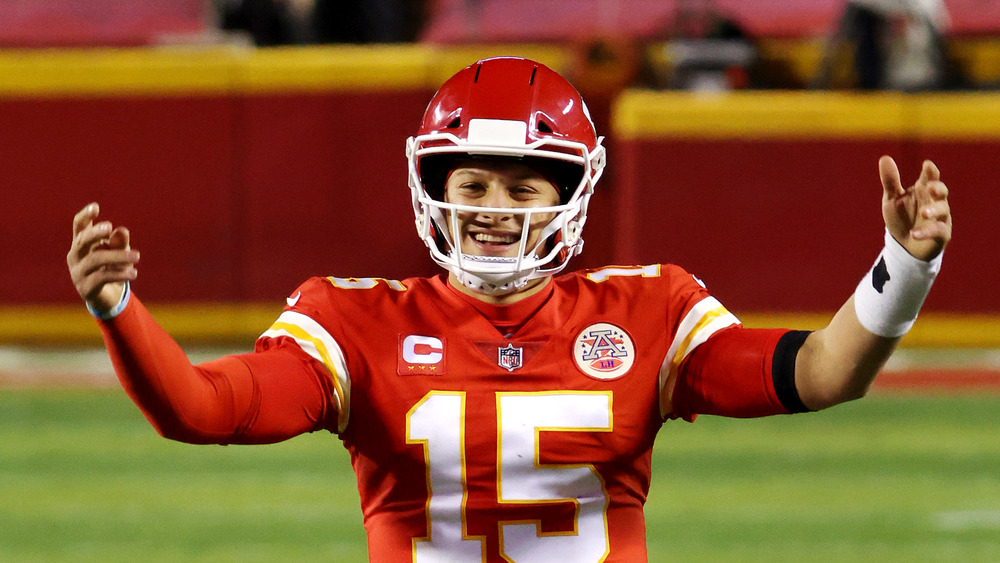 Jamie Squire/Getty Images
And his Kansas City Chiefs bio contains a rather long list of why. In his first year with the team, he threw 26 touchdown passes and 2,810 yards in the first eight weeks of the season. That was the most any NFL QB has racked up in his first nine games ever. That season, he became the second QB in NFL history to complete 50 touchdown passes and throw for over 5,000 yards in a single season. (Again, the only other one is Peyton Manning. That guy's pretty good.)
Mahomes also holds several other franchise records, but his greatest achievement so far has been his rallying his team to a come-from-behind victory at Super Bowl LIV in 2020 (which followed two other come-from-behind wins the same postseason — they wiped away a 24-point deficit in the divisional round, via ESPN, and a 10-point deficit in the AFC Championship, via ESPN). According to Sports Illustrated, the third-year quarterback led his team to wipe away a 20-10 deficit to win out over the San Francisco 49ers. Former Chiefs have been watching this new team with hope, thinking that this could be the start of a new dynasty in the NFL. It would be fitting for Kansas City to win out over the king of the last dynasty. The world waits with bated breath to see if Mahomes and his new generation of Chiefs can take down Brady and the Bucs.
Patrick Mahomes is crazy about his dogs, Steel and Silver. And he is not alone.
Patrick Mahomes really, really loves his dogs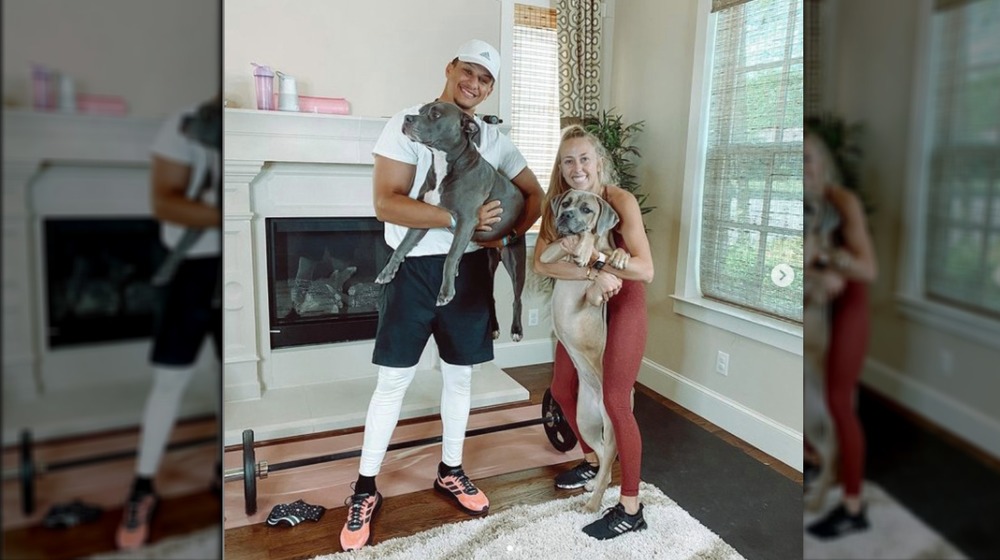 Instagram
The pair of lovable pit bulls have a whole army of Instagram followers — just under 200,000, and their ranks are guaranteed to swell if their dad wins his second Super Bowl in a row. Steel and Silver love dressing up, especially in anything rocking the Kansas City Chiefs logo. Silver even once donned a cap, glasses, and fake moustach for a selfie looking like his dad's head coach Andy Reid.
According to The Kansas City Star, Steel was a gift from Patrick to his girlfriend Brittany back in 2017, during his last year at Texas Tech. And although he tells people now that Steel is named for the burnished color of his fur, he is actually named after the Pittsburg Steelers (something for which Chiefs fans forgave him since he got them a Super Bowl). "Me and my dog Steel are exactly the same person, except he's a dog," said Mahomes. "His mannerism, like the stuff he does, is literally exactly the same as me." We're not sure if that makes Steel a weird dog, or Mahomes a weird person, but either way, we love it.
Silver came along two years later, during the 2019 NFL Playoffs. At first, Mahomes said that getting him during such a busy time of the season for him was "a joint decision," but then revealed who's idea it really was. "[Brittany] definitely wanted it. I was trying to wait until the offseason, but she wanted to get it up here quickly."
Patrick Mahomes is an activist and philanthropist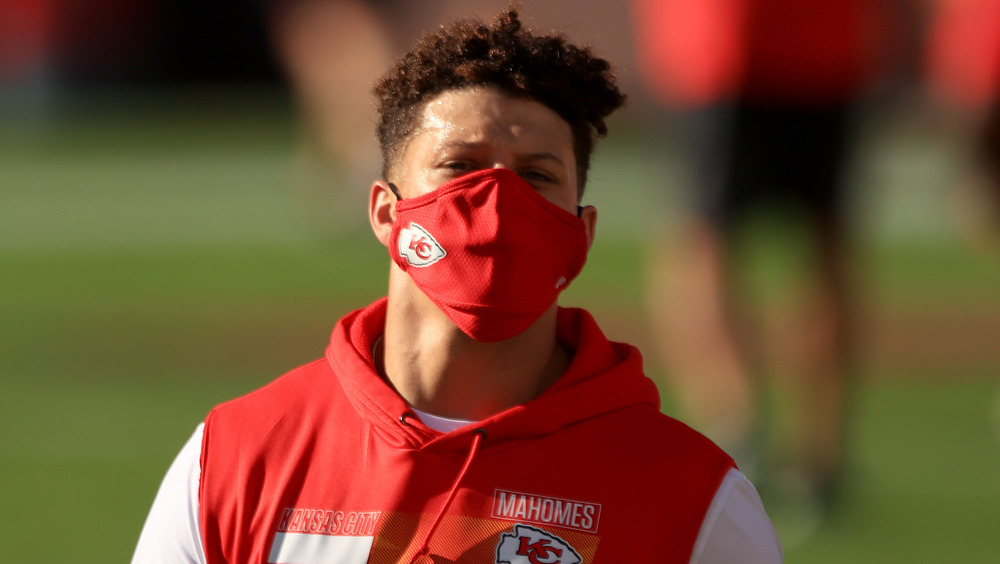 Mike Ehrmann/Getty Images
In 2019, Mahomes founded the nonprofit organization 15 and the Mahomies. According to the foundation's website, it "is dedicated to improving the lives of children … [through] initiatives that focus on health, wellness, communities in need of resources and other charitable causes." Its signature program — 15 For 15 — supports 15 charity organizations aimed at promoting both academic and extracurricular activities for youth. The foundation announced in December 2020 that it would give a total $250,000 to 15 different Kansas City area organizations that work to achieve its stated goals.
Mahomes has also gotten involved in the movement for racial justice that saw an increase in calls for action after the killing of George Floyd in May 2020. Sports Illustrated reported that he was part of a group of NFL players who sent a video to the league administration expressing a list of things they wanted to hear in its official statements. "[What if] I was George Floyd?" the Super Bowl MVP asked. "I am Tamir Rice." Then the video featured him and other stars in the league saying, "Black Lives Matter."
Mahomes' activism doesn't stop there. In the same month as the aforementioned news, Sports Illustrated reported on his work encouraging people to be a part of the democratic process. In June 2020, he teamed up with L. A. Laker LeBron James on his "More Than a Vote" project, which aimed to inspire Black people to add their votes and their voices to politics. "Change isn't made by watching from the sidelines," Patrick tweeted. "Let's do this @KingJames."