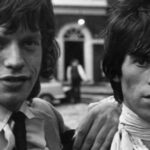 The Truth About Mick Jagger's Relationship With Keith Richards
echo get_the_meta(); ?>
If anyone alive represents the spirit of rock 'n' roll, it's The Rolling Stones. Since the band got together at the start of the '60s, they've been banned and busted, criticized and condemned. "Not usually the ingredients for longevity," guitarist Keith Richards told the aptly named Rolling Stone magazine in 2013. Still, the band's rock 'n' roll spirit has managed to haunt stages across the world for nearly 60 years.
In their six decades as Rolling Stones — and their seven decades as friends — Richards and frontman Mick Jagger have come a long way. They've been neighbors, classmates, bandmates, collaborators, co-conspirators, and competitors. They've argued and allied through an unprecedented amount of sex, drugs, and rock 'n' roll. Jagger and Richards have exchanged their share of criticisms and cheap shots. Still, their relationship remains — as it always has — a fierce musical alliance above all else. After all, "it's only rock 'n' roll." And, for the most part, they seem to like it. Here's more on the rock-'n'-roller coaster that is Jagger and Richards' relationship.
Mick Jagger and Keith Richards went to school together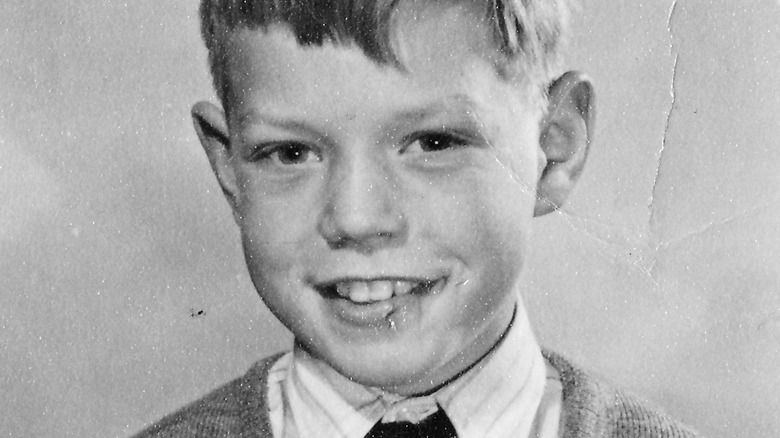 Stones Archive/Getty Images
Mick Jagger and Keith Richards have known each other for seven decades. They grew up together in Dartford, a town in the county of Kent, England, and both attended Wentworth Primary School. "I can't remember when I didn't know him," Mick Jagger told Rolling Stone in 1995. "We lived one street away; his mother knew my mother, and we were at primary school together from [ages] 7 to 11. We used to play together, and we weren't the closest friends, but we were friends."
Even beyond their primary school days, Jagger and Richards continued to orbit each other as kids. "[We] went to different schools when we were 11, but he went to a school which was really near where I used to live," Jagger told Rolling Stone. "But I always knew where he lived, because my mother would never lose contact with anybody, and she knew where they'd moved. I used to see him coming home from his school, which was less than a mile away from where I lived."
Mick Jagger and Keith Richards connected over R&B records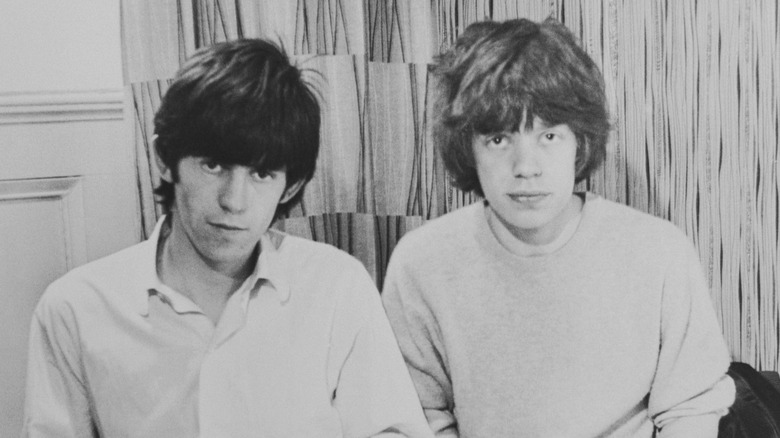 Keystone Features/Getty Images
One fateful day in October 1961, Mick Jagger and Keith Richards were at the Dartford Train Station preparing to head off to their respective universities, per Biography. Jagger was off to the London School of Economics, while Richards was headed for Sidcup Art College. Having lost touch for years, they bumped into each other and struck up a conversation. "I had these rhythm and blues records, which were very prized possessions because they weren't available in England then," Jagger told Rolling Stone. "And he said, 'Oh, yeah, these are really interesting.' That kind of did it. That's how it started, really."
From there, the pair kept in contact, often meeting to listen to records. Richards began picking up his guitar and playing it for Jagger. "So I said, 'Well, I sing, you know? And you play the guitar,'" Jagger recalled. "Very obvious stuff." They began collaborating, initially playing music as a pair, and later with two others in a band called Little Boy Blue and the Blue Boys in clubs around London.
On July 12, 1962, the Rolling Stones — named after a Muddy Waters song — made their official debut. The lineup included Jagger and Richards, along with guitarist Brian Jones, keyboardist Ian Stewart, and drummer Mick Avory, who later joined The Kinks.
Keith Richards wrote an early letter praising Mick Jagger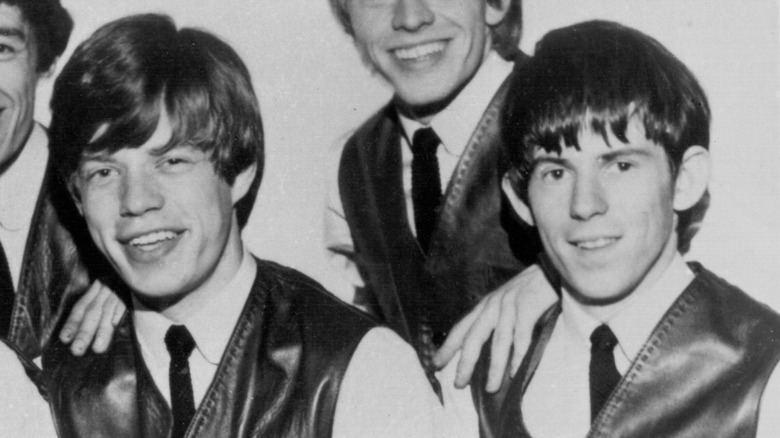 Michael Ochs Archives/Getty Images
After six decades of playing and partying, Mick Jagger and Keith Richards are relatively tame in their ripe old age. But when they first formed the Rolling Stones, an 18-year-old Richards wrote a not-yet-jaded letter to his Aunt Patty, detailing the novelty of his new life as a band member and party animal. In the letter, which he included in his 2010 autobiography "Life," Richards recalled bumping into Jagger at Dartford Station. "I was holding one of Chuck's records when a guy I knew at primary school 7-11 yrs y'know came up to me," he wrote (via Far Out magazine). "He's got every record Chuck Berry ever made and all his mates have too, they are all rhythm and blues fans, real R&B I mean."
The letter is a souvenir of Richards' early admiration for Jagger. "Mick is the greatest R&B singer this side of the Atlantic and I don't mean maybe," he continued. "We practice 2 or 3 nights a week. SWINGIN'." In addition to the high of their early musical collaborations, Richards mentioned his first tastes of the party lifestyle that would color his life in the decades to come. "I don't get bored anymore," he wrote. "This Saturday I am going to an all night party … Mick and I are taking 2 girls over to our favourite Rhythm & Blues club."
The Stones feuded over Mick Jagger's solo career
Michael Putland/Getty Images
After releasing the 1986 album "Dirty Work," the Rolling Stones went through a phase that Keith Richards has called "World War III," per Rolling Stone. Mick Jagger had released a solo album, 1985's "She's the Boss," and was set to release another, 1987's "Primitive Cool." Jagger's foray into solo work angered Richards, who was eager to get on the road to tour in support of "Dirty Work." "I really believed Mick wouldn't dare tour without the Stones," Richards said later. "It was too hard a slap in the face to deliver us. It was a death sentence."
Rolling Stone later asked Jagger about the rift. "Keith gets real upset every time I say anything that's even nice or understanding," Jagger said. "We've had a lot of ups and downs in the Rolling Stones, and this is one of them. I, for one, hope we will regroup … I love the Rolling Stones – I think it's wonderful, I think it's done a lot of wonderful things for music. But, you know, it cannot be, at my age and after spending all these years, the only thing in my life … And if I want to step outside of it, in any way I want, I feel I have the right to do so."
The Rolling Stones were back, both in the studio and on the road, by 1989. Still, the dynamic between Jagger and Richards was permanently altered.
Keith Richards wrote a diss track about Mick Jagger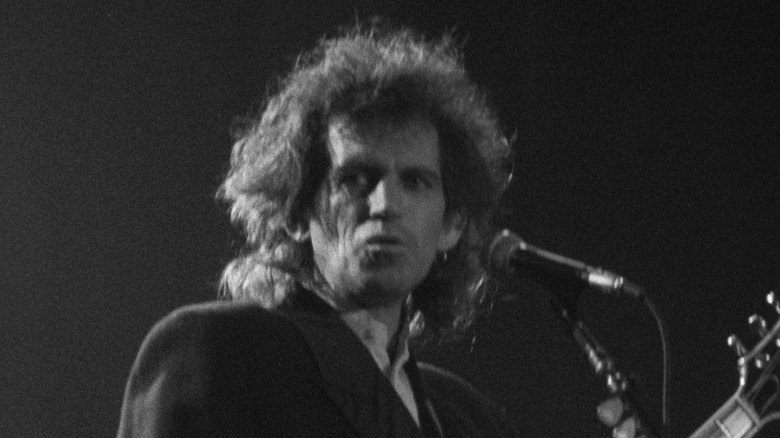 Jim Steinfeldt/Getty Images
On his 1988 solo album "Talk is Cheap," Keith Richards included a song about Mick Jagger, titled "You Don't Move Me Anymore." "Why do you think you got no friends / You drove them around the bend," Richards sings (via Genius). "What makes you so greedy / What makes you so seedy?"
"I'd written 40 songs for the album and had run out of ideas," Richards told The New York Times the year the album was released. "And Steve Jordan said, 'When in doubt, write about Mick.' But the song is not just about him. It can be about any friend you think is messing up."
"I think of our differences as a family squabble," Richards continued. "If I shout and scream at him, it's because no one else has the guts to do it or else they're paid not to do it. At the same time I'd hope Mick realizes that I'm a friend who is just trying to bring him into line and do what needs to be done."
Keith Richards criticized Mick Jagger's ego in his memoir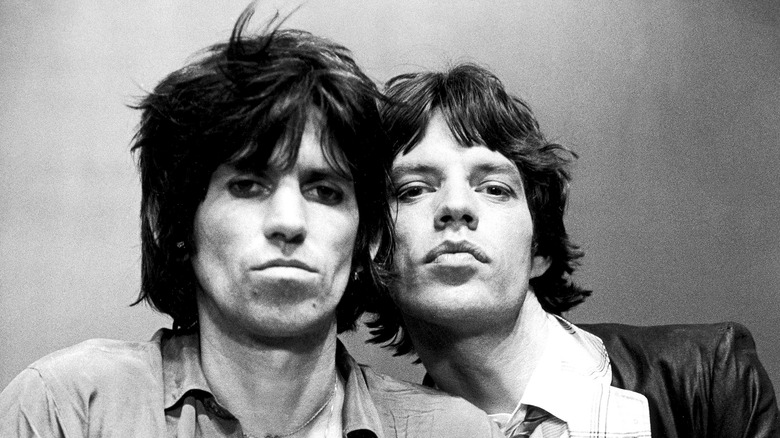 Michael Putland/Getty Images
Keith Richards published his explosive memoir, "Life," in 2010. The book, which became a best-seller, did not reflect kindly on Mick Jagger. "It was the beginning of the '80s when Mick started to become unbearable," Richards wrote (via The Washington Post). "Mick got very big ideas. All lead singers do. It's a known affliction called LVS, lead vocalist syndrome." Richards added that Jagger had a "swollen head" and an "inflated ego," and that members of the band would call him "Brenda, or Her Majesty, or just Madam," to ridicule his high-maintenance ways.
Toward the end of "Life," Richards described how his relationship with Jagger had changed over the years. "I used to love to hang with Mick, but I haven't gone to his dressing room in, I don't think, 20 years. Sometimes I miss my friend. Where the hell did he go?"
According to the New York Post, Jagger told music journalist Rich Cohen his thoughts on Richards' book, and Cohen paraphrased them in his 2016 book "The Sun & the Moon & the Rolling Stones." "Imagine that everything Keith says is true," Cohen wrote. "Now imagine those things being said by a business partner … Now imagine that partner is drug addicted. Sometimes, you have a big meeting and he doesn't show … Or maybe he gets busted on the eve of a world tour. What, in such a case, would you make of his complaints?"
Keith Richards ridiculed Mick Jagger's manhood
Michael Putland/Getty Images
Of all the barbs Keith Richards sent Mick Jagger's way in his autobiography, "Life," one hit below the belt. "Marianne Faithfull had no fun with his tiny todger," Richards wrote (via NME). "I know he's got an enormous pair of balls, but it doesn't quite fill the gap."
Richards had no choice but to apologize to Jagger shortly thereafter. The bandmates even suggested that the fate of the Rolling Stones depended on Richards' apology. "Well, I think it was a good thing he got together with me and said that," Jagger told Rolling Stone. "I don't really want to talk about it apart from that, but I think it's good that he said it, and yes, it was a prerequisite, really."
Rolling Stone also interviewed Richards about the whole debacle, and he hinted that he apologized out of obligation rather than genuine regret. "We resolved it, in our own way, you know," he said. "I said I regret if I caused you any, you know, inconvenience or pain, or something. I'd say anything to get the band together, you know? I'd lie to my mother." Even Faithfull herself weighed in on the debate when she was asked if Richards' claims were true. "Not quite," she said (via the Independent), "but nearly."
Keith Richards also ridiculed Mick Jagger's knighthood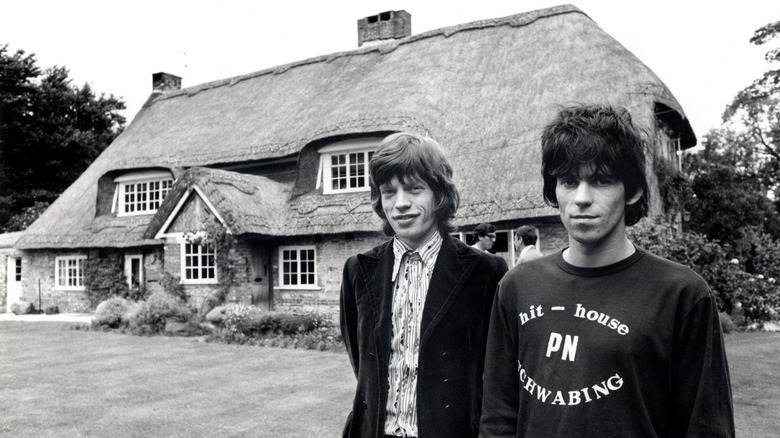 Icon And Image/Getty Images
Mick Jagger became Sir Mick Jagger when he was knighted in 2003. His knighthood was controversial, with even Queen Elizabeth II herself reportedly declaring the partying rocker "not suitable" for the honor, per Far Out magazine. And one of the most vocal critics of the spectacle was Jagger's own bandmate, Keith Richards.
"I thought it was ludicrous to take one of those gongs from the Establishment when they did their very best to throw us in jail," Richards told Uncut magazine shortly after the ceremony (via EW and CNN). "I don't want to step out onstage with someone wearing a coronet and sporting the old ermine … I told Mick, 'It's a f**king paltry honor' … It's not what the Stones is about, is it?" He added that he doubted he'd be offered the honor himself "because they know what I would've said … they knew I'd tell them where they could put it."
Jagger responded to Richards' protests by telling reporters, "It's like being given an ice cream — one gets one and they all want one … I don't think the establishment as we knew it exists anymore."
Keith Richards said he still loves the snobbish Mick Jagger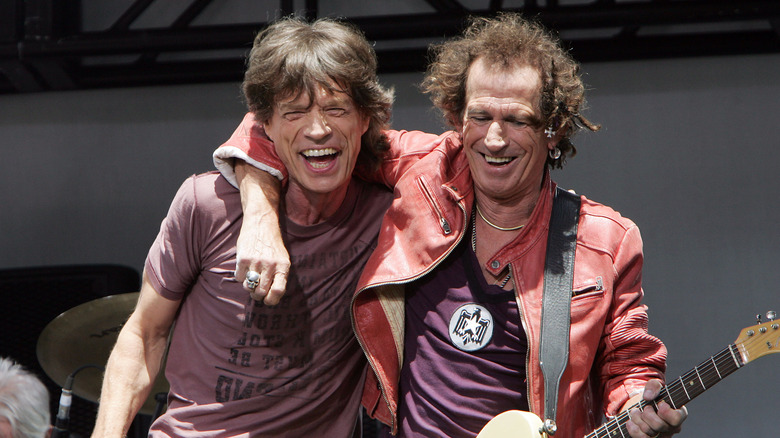 Scott Gries/Getty Images
In 2015 — five years after "Life" was published — Keith Richards told the Daily News that he stood by the claims in his book, particularly when asked about his portrayal of Mick Jagger as a snob. "I'll reinforce that," he said. "His daughter, Georgia May, was sitting around in my room and she said, 'Oh, you know what Dad's like. He's such a snob.' He can come off that way even to me and the rest of the band. He comes on the plane and doesn't say, 'Hey mate.'" Richards also referred to Jagger as a "control freak," adding, "He likes to know everything that's going on. He lost himself a bit in the details."
Although Richards has spent a lot of time discussing Jagger's flaws, he has also said that he still considers the Stones frontman a friend. "He's a hell of a frontman," Richards told the Daily News. "I still love him dearly. Your friends don't have to be perfect."
Keith Richards said Mick Jagger should stop having children
Jean Catuffe/Getty Images
On December 8, 2016, a 73-year-old Mick Jagger welcomed a son, Deveraux Octavian Basil Jagger, with his partner Melanie Hamrick, who is four decades his junior. As of 2021, Jagger has eight children with five women, as well as five grandchildren and a great-grandchild, per the National Post.
In a 2018 interview with the Wall Street Journal, Keith Richards discussed Jagger's huge brood. "It's time for the snip — you can't be a father at that age," he said (via the Washington Post). "Those poor kids!" The quote went viral, and Richards issued public and private apologies. "I deeply regret the comments I made about Mick in the WSJ which were completely out of line," Richards wrote on Twitter. "I have of course apologised to him in person."
Still, in the same Wall Street Journal profile, Richards suggested that any disagreements between him and Jagger are part of what keeps their dynamic strong. "Mick and I live off of this fire between us," he said.
Keith Richards loves Mick Jagger '99% of the time'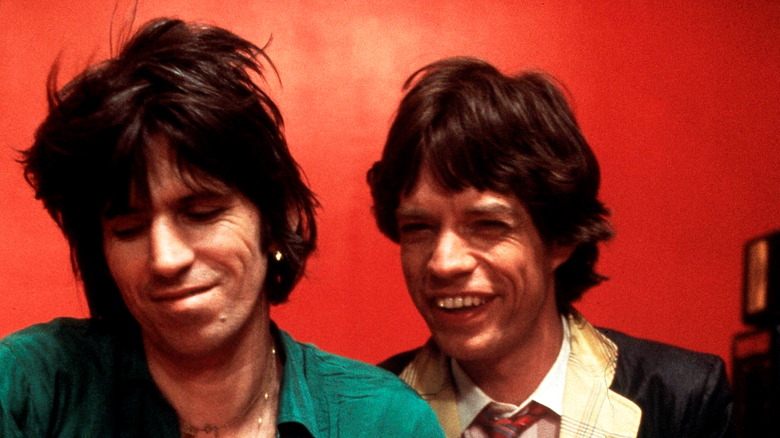 Michael Putland/Getty Images
"I can never praise [drummer] Charlie [Watts] enough and I can praise Mick Jagger 99 percent of the time," Keith Richards told The Sun in 2019 of his Rolling Stones bandmates. "Mick knows what I mean and he'll say the same about me. Things happen between Mick and me because it's just two guys working together. You only hear about the odd bust-up. I love the man 99 percent of the time."
During the interview, Richards also reflected on his solo debut album, "Talk is Cheap," which was released in 1988. Although he was branching out away from Jagger and the rest of the band, Richards hinted Jagger played a role in motivating him to do so. "Mick wanted to spread his wings and I thought, 'Why not spread mine?'" Richards said. "I also knew Mick and I were joined at the hip. There was no way we could survive alone and, at the same time, we had the pressure from Stones fans. Through all these years, we feel a real empathy with our audience."
In making his solo debut, Richards even gained some respect for Jagger on the heels of their feud. "It was my first time fronting the whole thing. Usually, this is Mick's job and suddenly I understood a lot more about the dynamics of being a frontman. I understood the pressure. My feelings towards Mick became, 'Yeah, I get it, man.'"
Mick Jagger and Keith Richards still love playing music together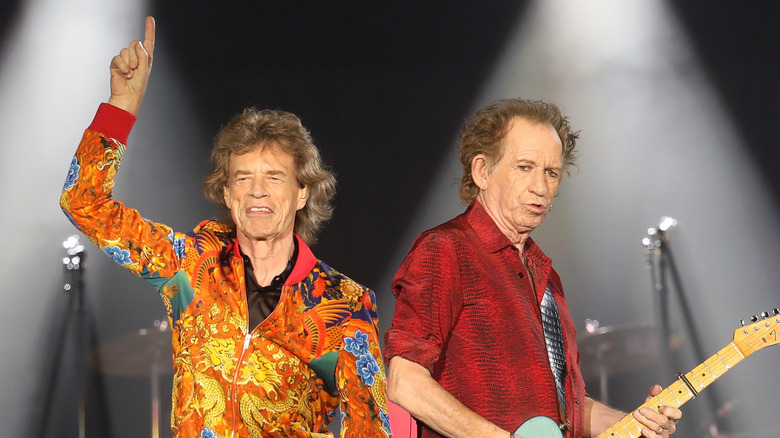 Taylor Hill/Getty Images
Mick Jagger and Keith Richards' musical bond appears to outlast any of their differences, as The Rolling Stones is one of the longest-running bands in history. The band has been together, on and off, for nearly six decades. "I miss performing," Jagger told Rolling Stone in 2020, during the COVID-19 lockdown. Richards agreed: "I really enjoyed that last tour, it was a great trek," he said of the band's 2019 tour. "I was very disappointed in March when we said, 'Uh oh, this thing's looking bad.'" In April 2020, the Stones released "Living in a Ghost Town," their first original song release since 2012. "I spoke to Mick around March," Richards recalled. "I said, 'Hey man, if there's a time to put this one out, it's now, you know.'"
Beyond the physical effects of aging, the Rolling Stones don't show any signs of slowing down. "You might call it a habit," Richards told Rolling Stone of their persistent touring schedule. "I mean, that's what we do. And also there's that thing between us, like, 'Who's going to be the first one to get off the bus?' You have to be kicked off or drop off, right? So it's like that. I really can't imagine doing anything else."
The Rolling Stones are planning on celebrating their 60-year anniversary onstage in 2022. "I hope we're all there, man," Richards said. "It's something to look forward to."