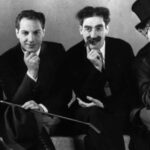 This Is What Plagued The Marx Brothers' Movie Career
echo get_the_meta(); ?>
From the theaters of Vaudeville to the silver screens in movie houses all over the United States, the Marx Brothers wrote their way into entertainment history. As teenagers, these brothers served as fill-ins for their uncle Albert's touring musical act in the early 1900s (via Marx Brothers). While talented in both vocals and instruments, this budding young troop's real calling was comedy. And if it weren't for a serendipitous incident at the Nacogdoches, Texas Opera House in 1912, the world may never have known the genius the brothers possessed. 
In the middle of their musical act, shouts from outside the theater forced an interruption. Most of the crowd went outside to help catch a runaway mule, which infuriated the brother known as Groucho. When the audience settled back into their seats, Groucho berated them with such comments as "Nacogdoches is full of roaches," and "The jackass is the flower of Tex-ass (via Barry Popik)." Rather than feel insulted, the crowd roared with laughter. This incident gave the brothers a new direction, as they began integrating comedy into their act over the next several years.
But behind every clown is said to be a grim face. What tragedy lurked behind the outwardly sunny facade of the most hilarious comedy team of the era?
Grim beginnings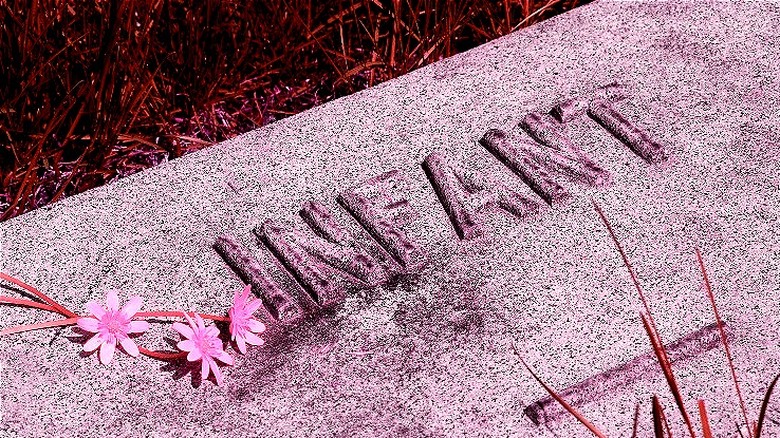 Anne Kitzman/Shutterstock
Born of a French immigrant mother and a German father, the Marx Brothers were raised with other immigrant families in New York City's Upper East Side. While Chico was always considered the eldest brother, history and family lore have shown different information. Documents show that Minnie and Simon Marx had another son, Manfred, who was born two years prior to Chico in 1886 (via Marx Brothers). "Manny" succumbed to tuberculosis at the age of 7 months. Even though Minnie and Simon parented five additional children over the next 14 years, family members would later say the loss of their firstborn had a deeply profound effect on the couple. The tragedy took a toll on Minnie and Simon's long-term mental health, and helped to compound the financial woes they were facing as recent immigrants. 
Contributing to childhoods that were already overshadowed by loss, poverty also began to take its toll on the Marx Brothers. At the age of 12, young Groucho was forced to abandon school to go to work. To help feed his family, he took a job at a local wig factory (via Biography). And even though the Marx family was getting in a little more income, the younger siblings were still the subject of bullying by fellow students and at least one teacher. Young Harpo seemed to get it the worst, recalling in his autobiography "Harpo Speaks!" one particular teacher who announced to the class that he wouldn't ever amount to anything.
How a gambling addiction changed everything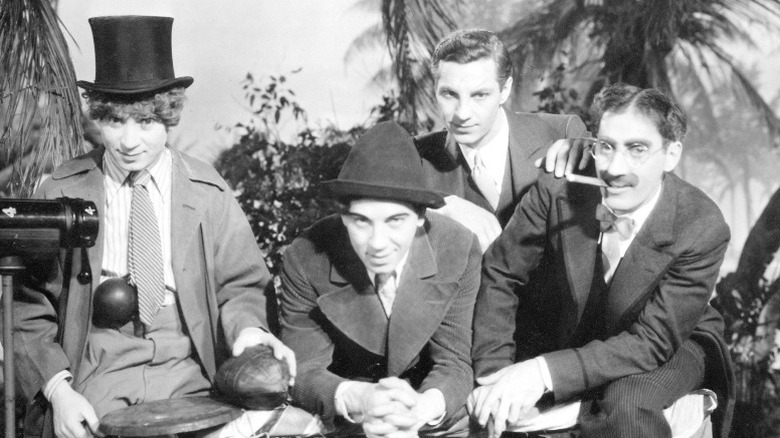 Michael Ochs Archives/Getty Images
Even as a child, Chico couldn't be trusted with money. His family would recall how the elder Marx would entrust Chico with money to purchase goods, only to have his own son blow the money at pool halls and gambling houses (via Hollywood Stories). Unfortunately for the Marx Brothers, this gambling addiction only became worse as the years wore on. Running up gambling debts as an adult became a trademark of Chico Marx. 
Whether it was at the racetrack or at a card table, Chico was always laying out money on a "sure thing." Sadly, he placed a lot of bets that he couldn't back up. As a result of this, the later Marx Brothers films were rumored to have been made so that his co-stars could pay off some of his gambling debts. LA Times reporter Robert W. Welkos sat down with Chico's daughter Maxine in 2000, in which she brought up her father's addiction (via SFGate). Maxine recalled her father's pleas to her uncles that he needed money or someone was going to kill him. According to Maxine, this occurred on multiple occasions, and would result in the brothers making sub-par films to save her father.
Instead of having a swan song to end their careers, the Marx Brothers chose to make lesser-known movies to bail out one of their own. Had Chico not been a chronic gambler, the story of the Marx Brothers might have had a more successful ending.