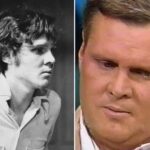 More 50s-70s Teen Idols Who Are Not All Fame and Fortune
echo get_the_meta(); ?>
Nostalgia nerds, we see you. We love you. We are you. We got word that you loved our previous article about teen idols of decades past and that you were eager to go on another walk down memory lane. Which is exactly why we're here.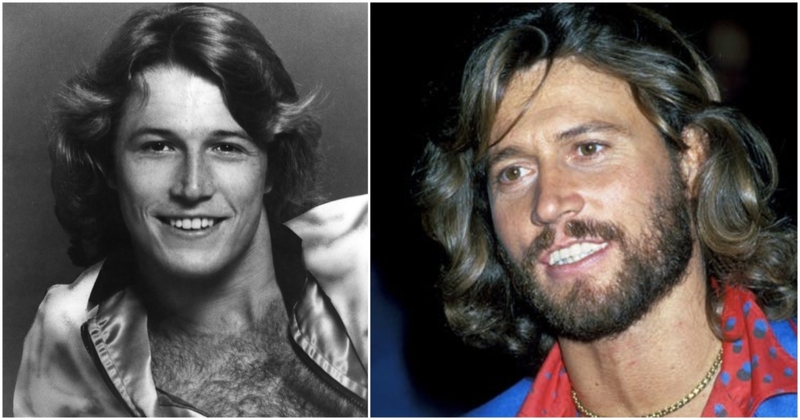 After searching and researching, we came up with some more teen idols to stimulate your nostalgia glands and send you on a hunt for some old vinyl records. Take a look at their interesting stories, their crazy lives, and their undeniable contribution to pop culture.
Susan Dey (1970s)

Big break: "The Partridge Family," 1970

When she was only seventeen years old, Dey won the role of Laurie Partridge on "The Partridge Family," which would go on to produce another teen idol in David Cassidy. In 1972, Dey starred in her first feature film, "Skyjacked," which starred Carlton Heston. She played Elly Brewster, a passenger on an airline flight who discovers a bomb threat.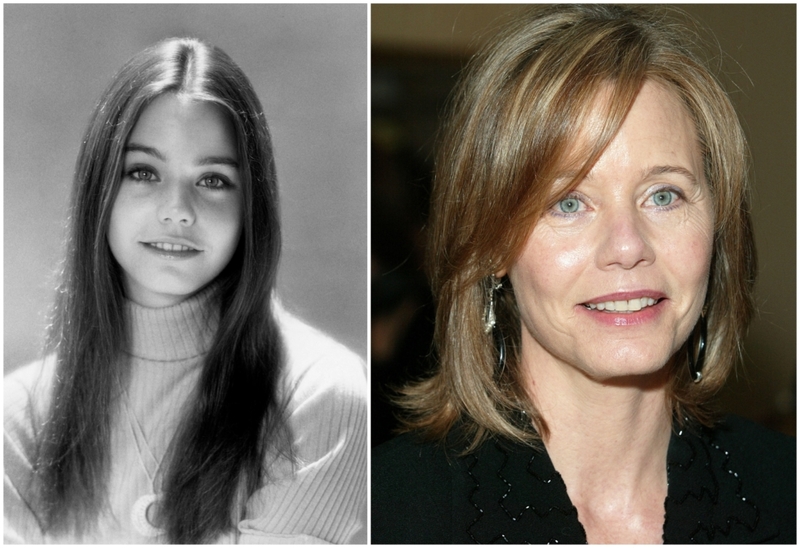 When "The Partridge Family," she appeared in television movies and had numerous television roles. From 1986 until 1992, she worked on the series "L.A. Law," earning a Golden Globe as Best Actress in a Leading Role – Drama Series.
Pam Dawber (1970s)

Big break: "Mork and Mindy," 1978

Dawber got her start as a model in New York City but decided to make the shift to acting, appearing in commercials until she got big. That embiggening came thanks to "Mork and Mindy," where she played Mindy McConnell, the Earth girl who befriends a space alien – played by Robin Williams in his own breakout role.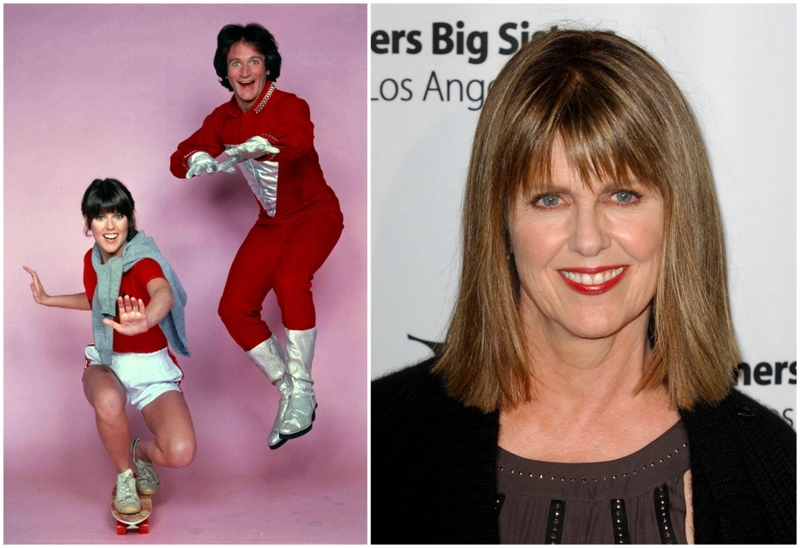 The show ran from 1978 until 1982 and is still remembered fondly to this day. Since then, she was on "My Sister Sam" and also married actor Mark Harmon in 1987. The two have a pair of children.
Farrah Fawcett (1970s)

Big break: "Charlie's Angels," 1976

With the one-two punch of "Charlie's Angels" coming out the very same year, Fawcett posed for her legendary bathing suit poster – you know the one – there was no way she wasn't going to become one of the biggest names of the decade almost overnight.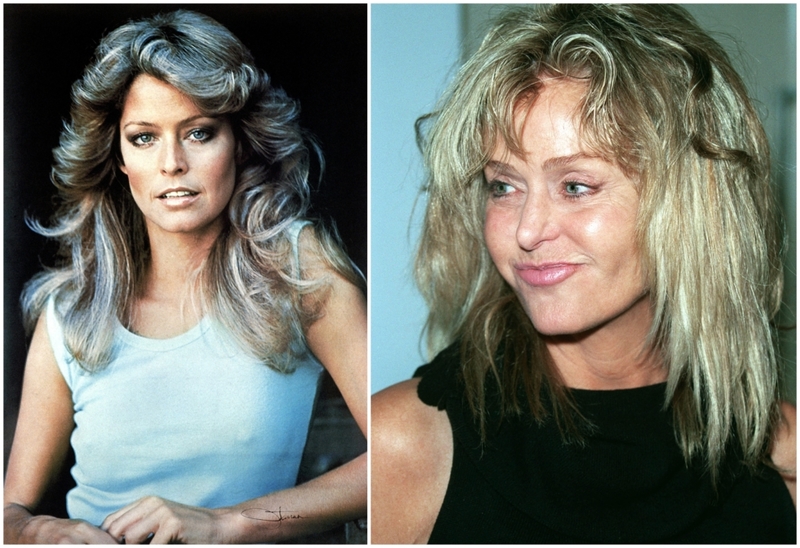 It went like this: You either had a crush on Fawcett, or you spent hours in the bathroom trying to replicate her hairstyle. Her bright smile, big eyes, and enviable figure made her someone who could sell a movie, a TV show, or even a shaving cream just by saying hi.
Catherine Bach (1970s)

Big break: "The Dukes of Hazzard," 1979

If you're of a certain age, you're intimately familiar with Catherine Bach, or at least with the outfit she wore as Daisy Duke on "The Dukes of Hazzard." Not many get a piece of clothing named after them, and Bach earned her right to become part of television history.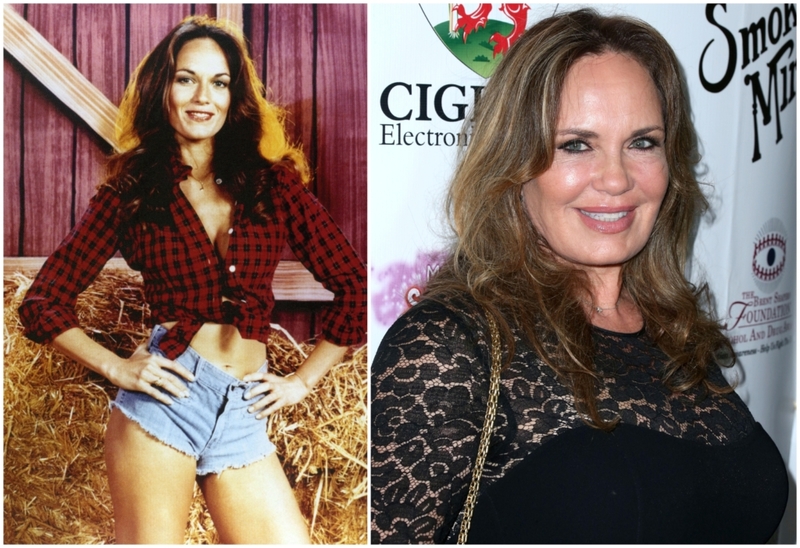 Long before she joined the Dukes, she starred in the Burt Lancaster movie "The Midnight Man" in 1973 – her very first acting role – and she also played alongside Clint Eastwood in "Thunderbolt and Lightfoot." Bach became a poster queen, selling millions of her in her Daisy Duke getup – producers apparently hired her as soon as they saw the outfit she had picked out for the character.
Loni Anderson (1970s)

Big break: "WKRP in Cincinnati," 1978

From a childhood of playing dress-up to getting second place in the Miss Minnesota pageant at eighteen, Loni Anderson was destined for greatness. When she and her family relocated to California, both Anderson and her husband started getting acting roles. Anderson found herself in popular shows such as "S.W.A.T.," "Police Woman," "Three's Company," and "Barnaby Jones," though she never had starring roles.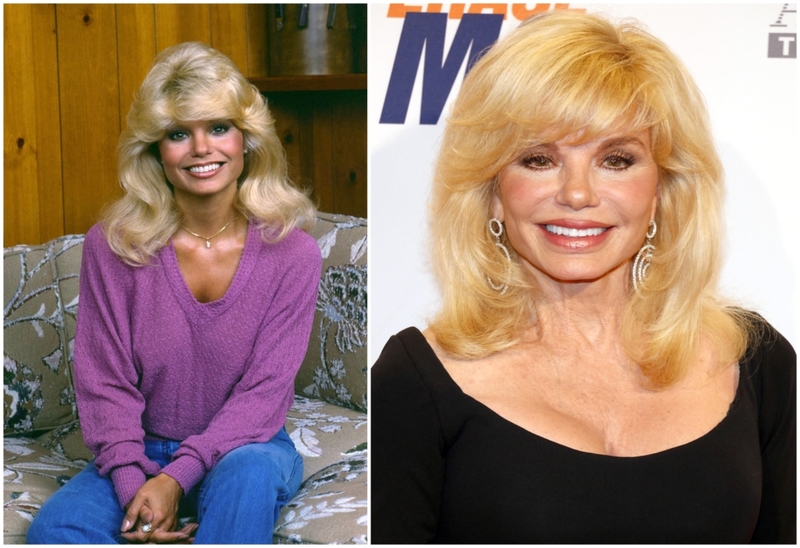 That changed in 1978 thanks to a poster she posed for, which caught the attention of Hugh Wilson, who needed someone to star in the sitcom "WKRP in Cincinnati." Anderson proved to be the breakout star of the series. She went on to get plenty of roles after the series ended and even got married to Burt Reynolds.
Sandra Dee (1950s – 1960s)

Big break: "Imitation of Life," 1959

Sandra began her entertainment career as a child model, later moving on to televised advertisements, breaking into the film when she was a teenager. She became famous for playing ingénues and earned a Golden Globe Award as a promising newcomer. She became a household name thanks to "Imitation of Life" in 1959. She was darling, driving men wild with just one look.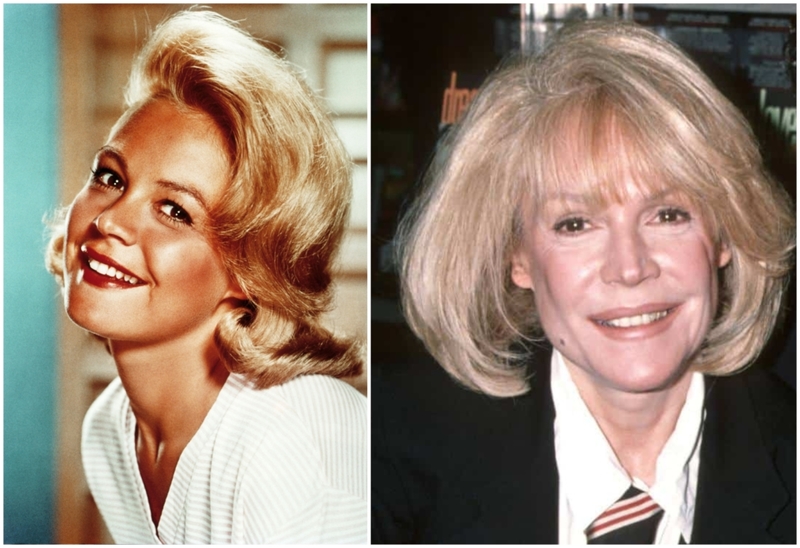 Her career continued into the sixties, but by the end of the decade, it had begun to dwindle. Her publicized divorce with Bobby Darin marked the beginning of the end, and she rarely acted after 1970. Dee died in 2005 of complications from kidney disease.
Michael Biehn (1970s)

Big break: "The Runaways," 1979

Most people will likely remember Michael Biehn from two major roles in the eighties: Sgt. Kyle Reese in the 1983 sci-fi thriller "The Terminator," and Corporal Dwayne Hicks in the 1986 movie "Aliens." But during the seventies, he had lots of roles in traditional media as well as science fiction that held lots of viewers tuning in just to see him.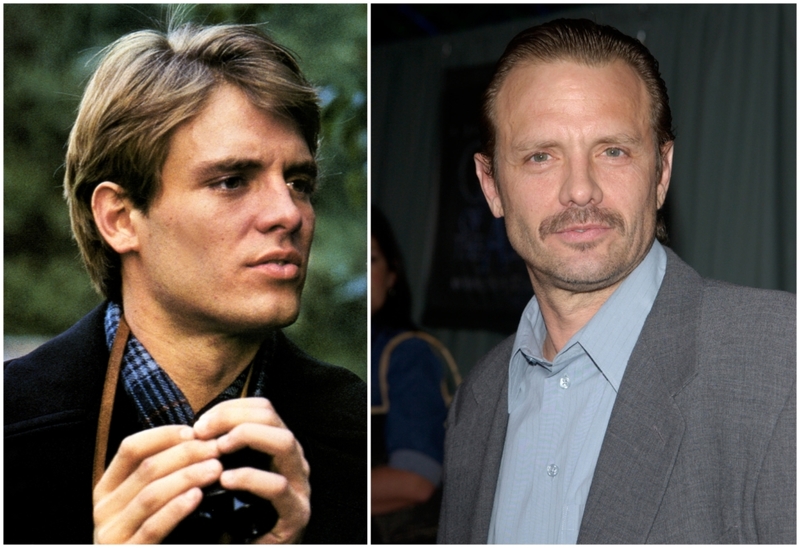 He paid his dues in the acting world, working his way up the ladder on shows such as "James at 16," "Logan's Run," and "Family." It was the short-lived series "The Runaways" from 1979 that got him his place in teen magazines.
Dirk Benedict (1970s)

Big break: "Battlestar Galactica," 1978

Long before he was the handsome and skilled space pilot Lt. Starbuck in the original "Battlestar Galactica," Dirk benedict had a role on the short-lived 1974 TV series "Chopper One," and also starred in the cult classic horror film "Sssssss" from 1973. Yup, that's the name.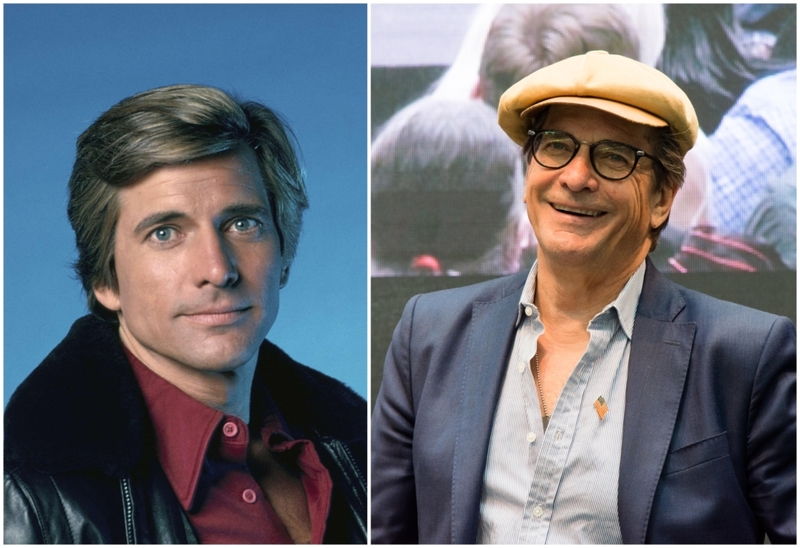 He played a lab assistant to a scientist who had a bad habit of turning his assistants into snakes. Benedict is best known for his role on the classic eighties show "The A-Team," in which he played Lieutenant Templeton "Faceman" Peck. The opening to that show references his "Battlestar Galactica" role.
The Bay City Rollers (1970s)

Big break: "Keep on Dancing," 1971

Formed in 1967, this Scottish group went through plenty of lineup changes before they struck it big and caused music and fashion crazes alike. They had major chart success in the United Kingdom and later got all the way to number one on Billboard with "S-A-T-U-R-D-A-Y Night."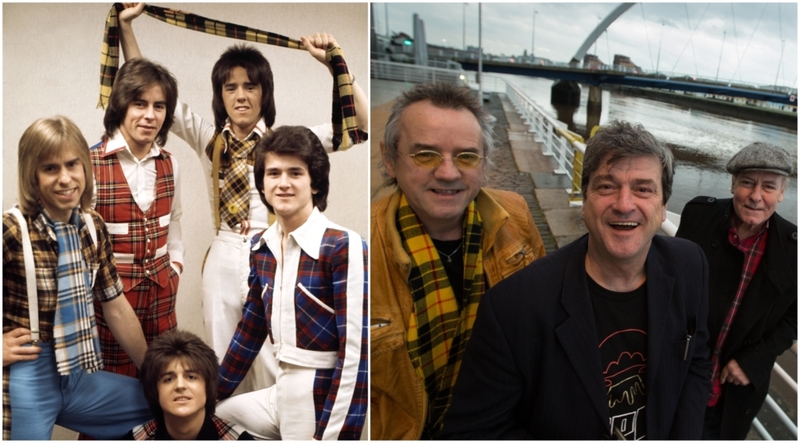 The boys seemed unstoppable when their next song, "Money Honey," got to number nine. Teen gals of the era loved the music and looks of the boys, but their star power faltered thanks to a revolving door of members who couldn't take the strain. Several of the members still play the songs, but there is no official Bay City Rollers anymore.
Lenny Bari (1970s)

Big break: "Jeremy," 1973

Lenny Bari's character appeared alongside four other streetwise kids in a short-lived spinoff of "Barney Miller." Abe Vigoda's character, Phil Fish, took the kids off the street, becoming a foster father of sorts. Lenny was singing by the age of five, appearing on-stage by the age of ten, and starring in Broadway shows – despite having a full zero acting lessons – by the age of fifteen.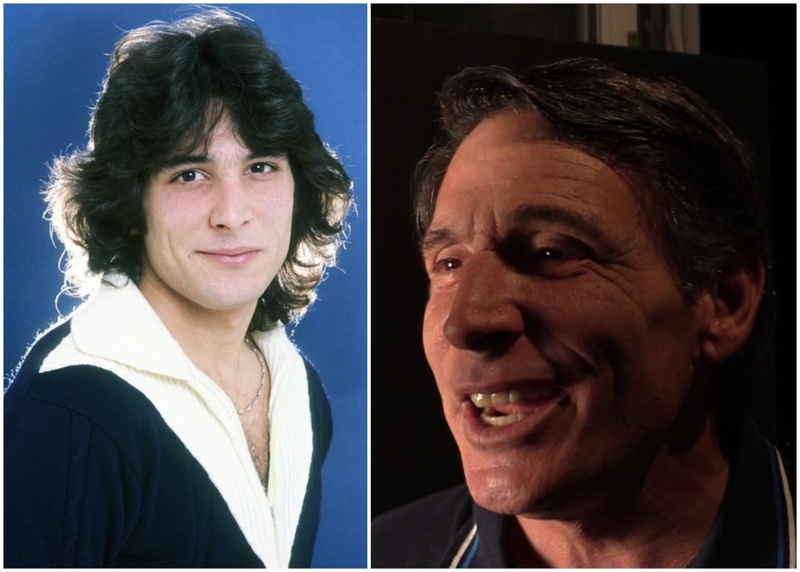 His first show was "The Me Nobody Knows," and he was also part of the road company for "Grease." Bari didn't have many roles on TV or in movies, but the time he spent on "Fish" was still enough to get plenty of teen girls fawning.
Jimmy Baio (1970s)

Big break: "Soap," 1977

That name probably looks familiar, and yes, Jimmy Baio is Scott's cousin. Another cousin is Joey Baio, who had success as an actor in the fifties and sixties. There isn't a whole lot we can find about the youngest Baio, but we do know he began his television career at the age of thirteen when he played an uncredited role on "Ellery Queen."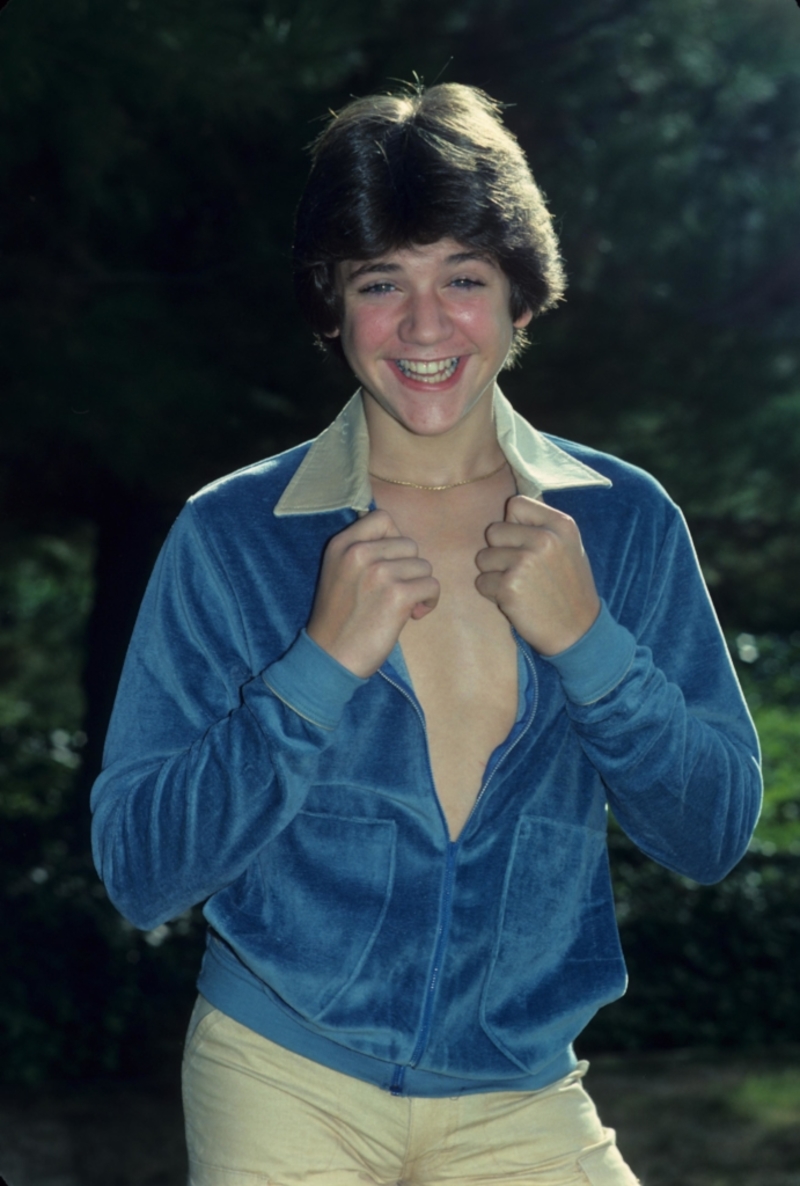 In 1976 he joined the cast of "Joe and Sons," which only ran for a single season, and then became part of "Soap," playing Billy Tate, staying with the show until 1981.
Willie Aames (1960s – 1970s)

Big break: "Gunsmoke," 1960s

During the sixties, Willie Aames was a child actor who had plenty of big appearances, including on "Gunsmoke," perhaps one of the biggest shows of the decade. When he reached adulthood in the seventies, he had spots on "Cannon," "Medical Center," and "The Waltons."
He was the first actor to play Felix Unger's son, Leonard, on "The Odd Couple," a role that fellow teen star Leif Garret would take over. Aames starred in "Eight Is Enough" as Tommy Bradford from 1976 until 1981. After that, he became an ordained minister and appeared as the Christian superhero Bibleman in a video game series of the same name from 1995 until 2004.
Andy Gibb (1970s- 1980s)

Big break: "Flowing Rivers," 1977

British-born singer Andy Gibb had star power in his family. He was the younger brother of Bee Gees members Barry, Robin, and Maurice Gibb, but he didn't need to be part of the family act to get his own fame. His first album "Flowing Rivers" proved he had the musical chops, and he got his first number one song, "I Just Want to Be Your Everything," when he was nineteen years old.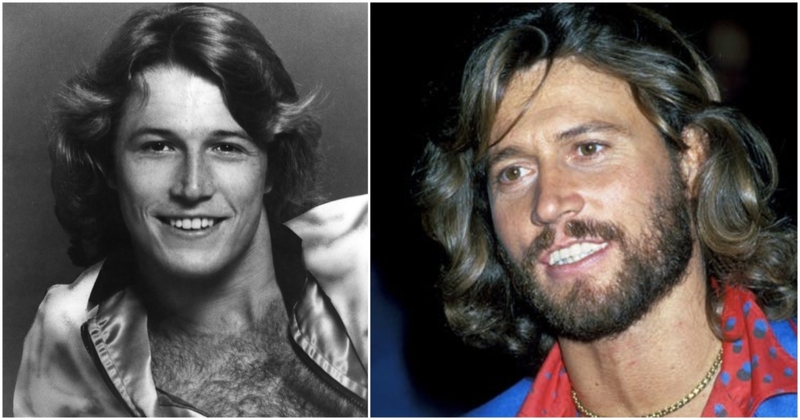 Three more top twenty singles followed the hit, and then Gibb fell into addiction and depression. When he turned thirty, he attempted a comeback but died just a few days later due to myocarditis – inflammation and weakness of the heart due to substance abuse.
The Hudson Brothers (1970s)

Big break: "The Sonny & Cher Show," 1974

These brothers only rose to prominence thanks to the established star power of "The Sonny & Cher Show." Less than a year later, in 1975, the brothers had their own variety show, "The Hudson Brothers Show." They later moved on to children's programming with "The Hudson Brothers Razzle Dazzle Show."
The same year they began their variety show, they had two songs – out of four – that made it to the Billboard Hot 100: "Rendezvous" and "Lonely School Year." The musical talent didn't stop there – one of the brothers, Bill, met and married Goldie Hawn in 1975 when Hawn was pregnant with their daughter, none other than actress Kate Hudson.
The Beach Boys (1960s – 1970s)

Big break: "Surfin' U.S.A," 1963

The year they released their second album, "Surfin' U.S.A.," was also one of the last years the Beach Boys were a pure pop group. Their sun-and-fun sound had them dismissed by most critics, yet teens loved the sounds of their songs. With distinguishing vocal harmonies and musical ingenuity, they became one of the most influential acts of the rock era.

They were one of the few American bands who maintained their standing during the British Invasion in the sixties. Their 1966 album "Pet Sounds" and its single "Good Vibrations" made them rock innovators. Though members have passed away or quit, the band continues to perform.
Mark Wynter (1960s – 1970s)

Big break: "Venus in Blue Jeans," 1962

While he began his entertainment career as Terry Lewis, he decided to switch to Mark Wynter to avoid confusion with famous comedian Jerry Lewis. Wynter placed fourth in the 1961 edition of the Eurovision Song Contest, but that didn't stop him.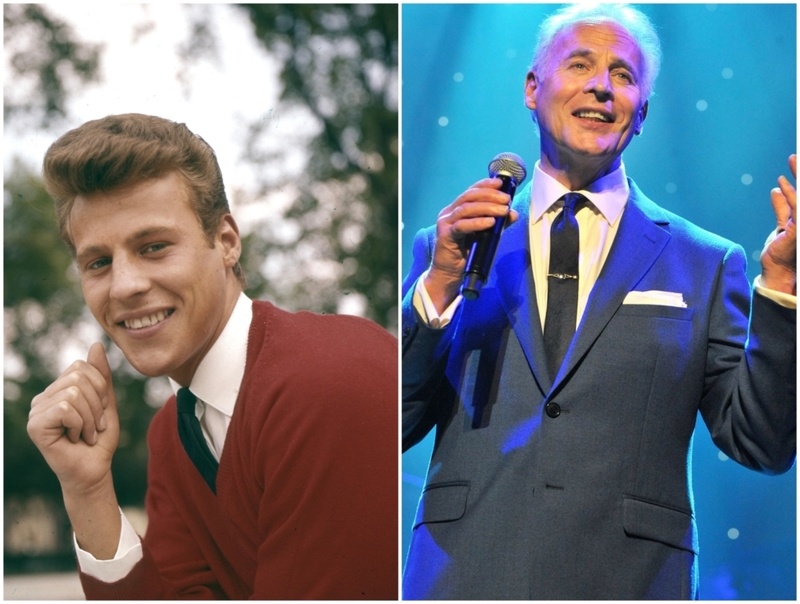 He recorded a cover version of the Jimmy Clanton hit "Venus in Blue Jeans," which helped him find big success, though none of his other musical outputs would reach the same heights. His musical career continued until 1968, at which point he developed into an actor in films, musicals, and plays – he even appeared in the 1978 "Superman" movie.
Troy Shondell (1960s)

Big break: "This Time," 1961

While "This Time" was Troy Shondell's biggest – and only – hit, he had been writing and performing music for almost ten years, since he was fourteen. Until that point, while his songs had been well-received, they hadn't made it to the charts. "This Time," however, made him an international star, charting both in the United States and the United Kingdom.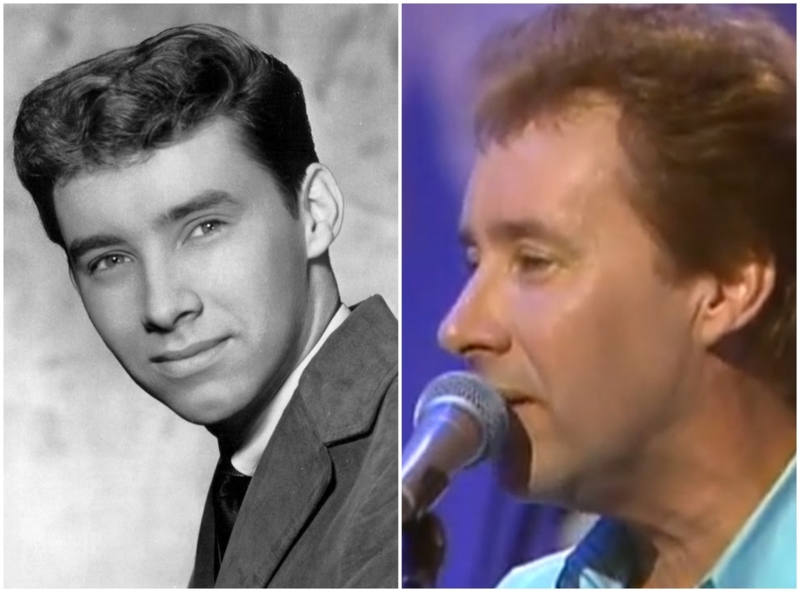 However, Shondell turned out to be a one-hit-wonder, and he follow-up "Tears From An Angel" saw no chart success. Yet Shondell continued to write and perform until 2010 when he called it quits. In January of 2016, he died from complications of Alzheimer's and Parkinson's disease.
Brian Hyland (1960s – 1970s)

Big break: "Itsy Bitsy Teenie Weenie Yellow Polkadot Bikini," 1960

After small hits, Hyland suddenly delivered an anthem of the sixties thanks to his most famous song, "Itsy Bitsy Teenie Weenie Yellow Polkadot Bikini." The novelty song reached number one on the Billboard Hot 100 and sold almost a million copies in just two months, with over two million total.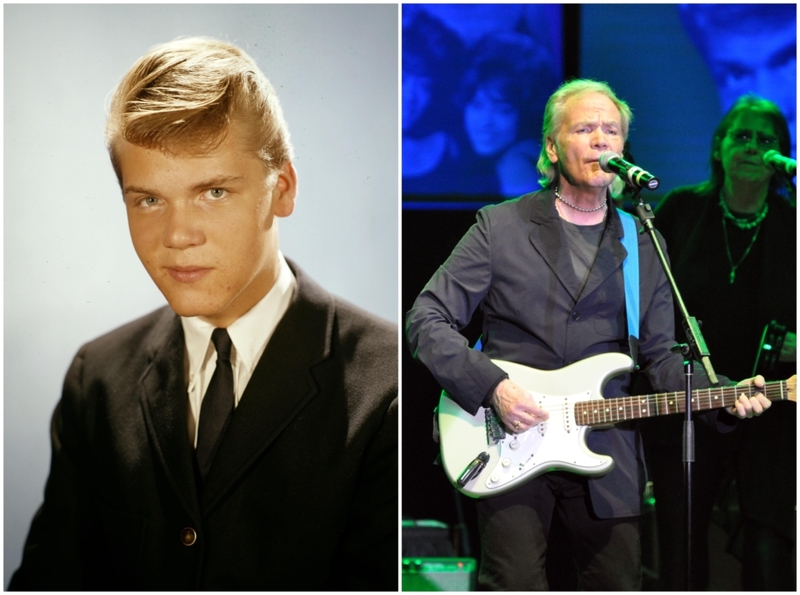 Additional hits include "Let Me Belong to You" and "I'll Never Stop Wanting You." As the decade advanced, the hits racked up, and Hyland began to branch out, producing more than just pop music, including the psychedelic single "Get the Message," which reached number ninety-one. He even had relative success in the seventies and eighties and continues to tour to this day.
Jimmy Justice (1960s)

Big break: "Little Lonely One," 1962

Born James Anthony Bernard Little in South London, England, Jimmy Justice scored three top forty hits in the UK just in 1962. After getting his start singing with Emile Ford and the Checkmates, Jimmy Justice went on to record a debut single in 1960 that didn't garner much attention.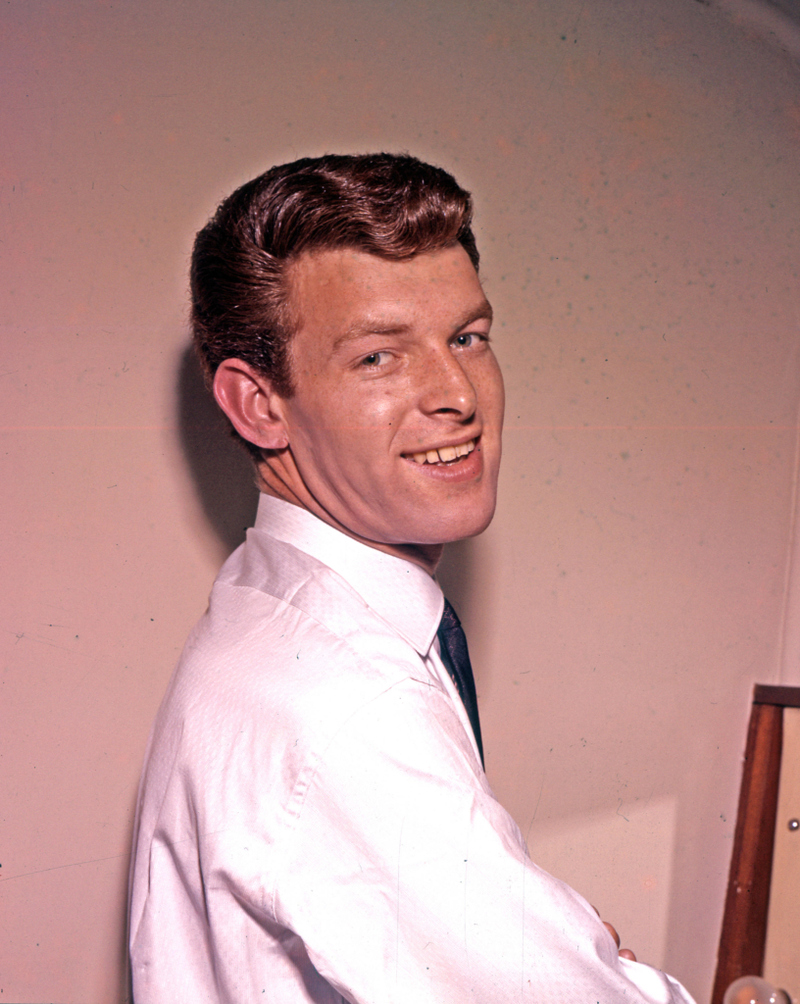 Yet Justice signed a three-year deal with Pye Records. "Lonely Little One" became a hit in Sweden, and then his music started to gain popularity in the United Kingdom, though he couldn't fully capitalize on his new fame, having stayed in Sweden. When beat groups such as the Beatles became popular, Jimmy's star waned, and he seems content with a simple life.
Jimmy Elledge (1960s)

Big Break: "Funny How Time Slips Away," 1961

James Presley Elledge – yes, that's his middle name – was only eighteen when he sent a demo tape to legendary Chet Atkins, but it got him a recording contract with RCA Victor. Just his second recording for the label was his biggest song, "Funny How Time Slips Away."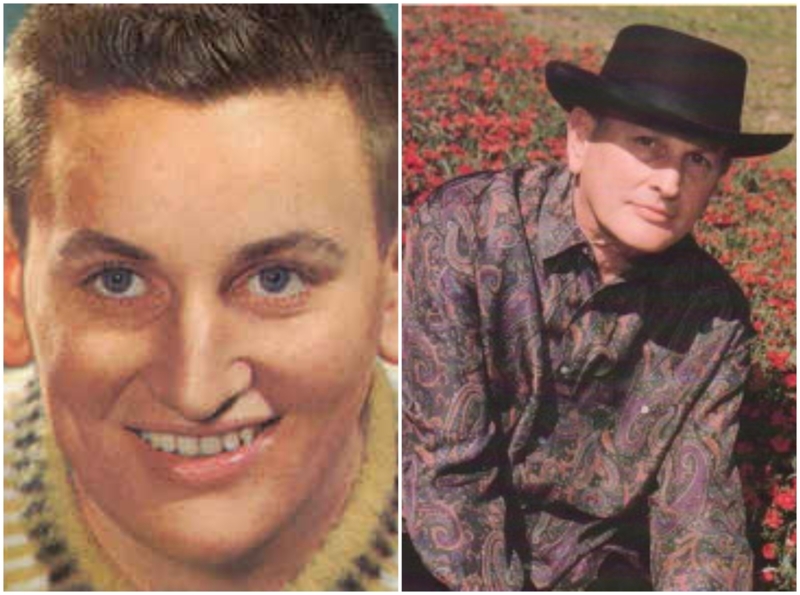 None other than Willie Nelson wrote the song, which was also produced by Atkins. The song peaked at number 22 on the Billboard Hot 100, selling over a million copies. While Elledge never had another hit, he continued to produce music until 2005, when he was putting together a fourteen-song CD called "Passion," during which he suffered a debilitating stroke. Sadly, Elledge died in 2012.
Kenny Dino (1960s)

Big break: "Your Ma Said You Cried in Your Sleep Last Night," 1961

Born Kenneth J. Diono, Dino joined the Navy in 1957, becoming a runner-up in a talent show thanks to a version of an Elvis song. Once he got back to the states, he put together an act and started touring. He had plenty in common with the king of rock and roll but never got near Elvis's success.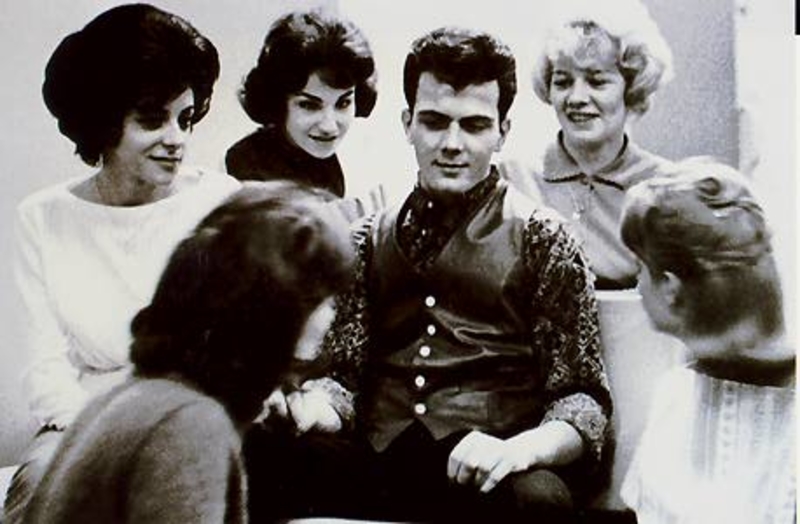 He only had one hit and had the bad habit of turning down opportunities to perform with people who would go on to be huge, including Paul Simon. He has plenty of fans still, however, including Elton John and Robert Plant. Dino passed away in 2009.
Mike Clifford (1960s)

Big break: "Close to Cathy," 1962

Thanks to a debut on "The Ed Sullivan Show," this California crooner got big. His most memorable feature was a pompadour that would make any fifties greaser, or Conan O'Brian, green with envy. Though he was never forgotten, it took some time for Clifford to get stateside fame – until "Close to Cathy" in 1962, he was getting plenty of stardom in Venezuela, of all places, thanks to his hit "Bombay."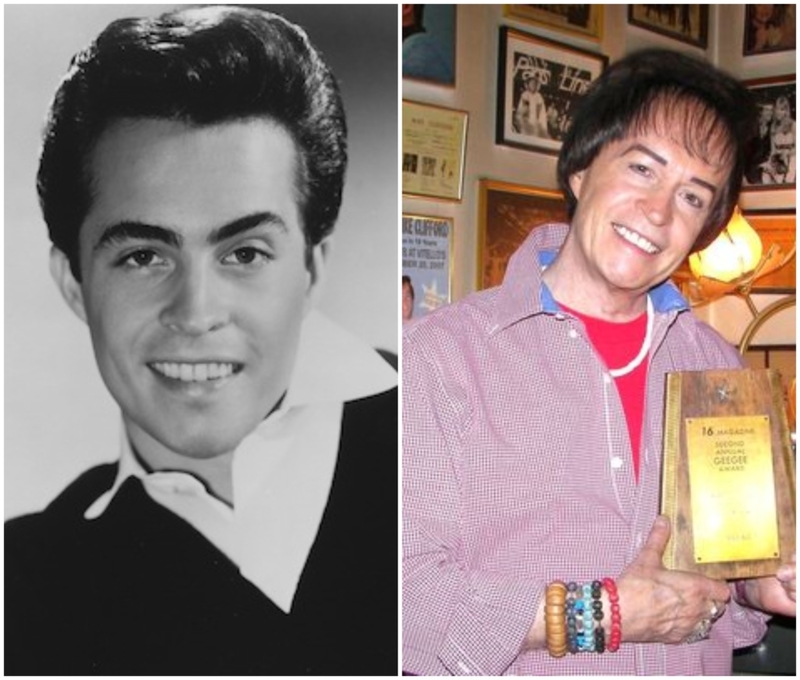 He was also in the first national tour of the musical "Grease" alongside John Travolta. Clifford is now releasing re-recorded versions of his classic songs.
Dion DiMucci (1960s)

Big break: "Runaround Sue," 1961

Dion, as he was known, had lots of big hits, but only one of them, "Runaround Sue," made it to number one. He was one of the rare teen idols at the time who had real musical ability beyond chords and a stage presence. He made it into the Rock and Roll Hall of Fame in 1989 – his fans include legendary musicians such as Bruce Springsteen, Paul Simon, and Lou Reed.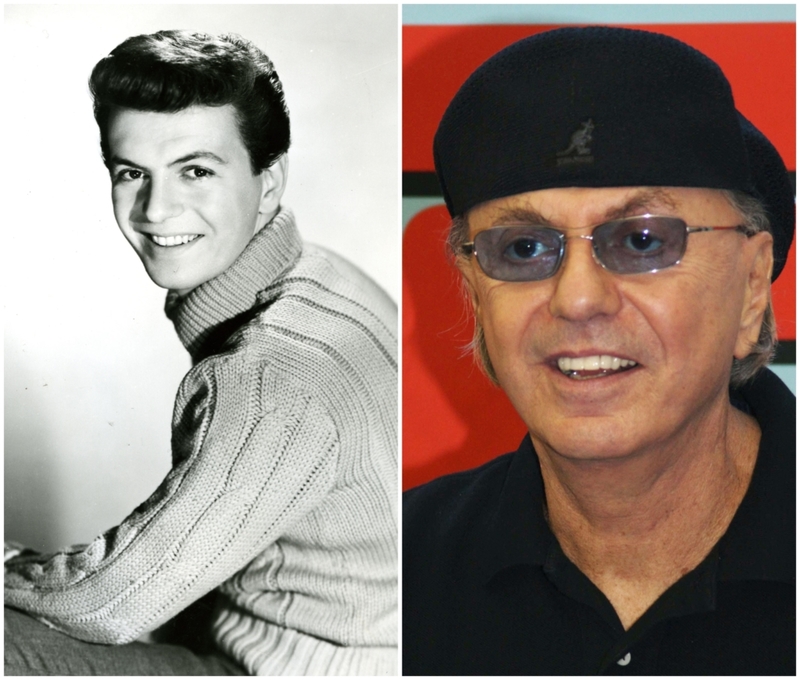 This journeyman is still releasing music and can always be found in the studio, on tour, or playing live on Facebook. He's still got plenty of life in him, even for someone who's playing for fifty years.
Shaun Cassidy (1970s)

Big break: "The Hardy Boys Mysteries," 1977

As David Cassidy's brother, Shaun was close to fame for a while before he got his own career. This former teen heartthrob was young detective Joe Hardy in "The Hardy Boys Mysteries," alongside Parker Stevenson as the older Frank. Just like David, Shaun adjusted well to adult life, and after teen and twenties full of "Tiger Beat" magazine articles, Shaun has settled down and taken to the stage, acting in Broadway dramas.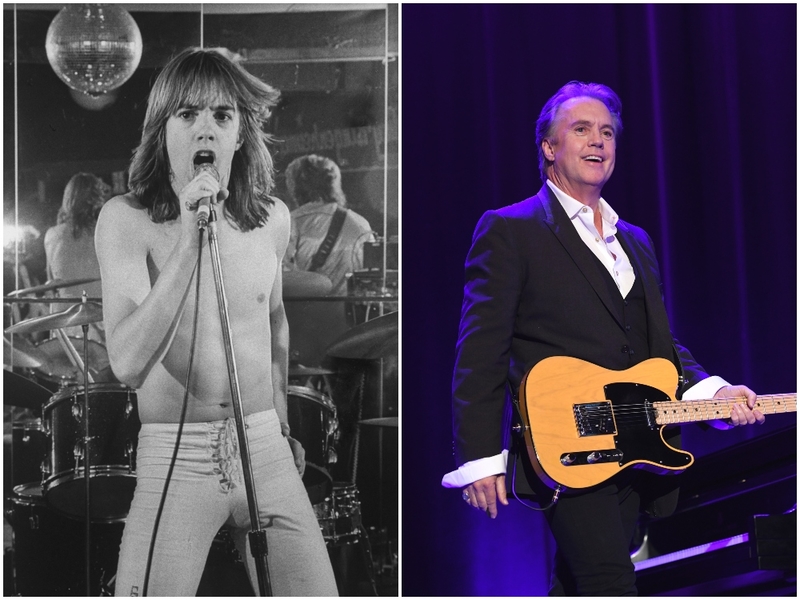 During the nineties, he returned to the TV behind the camera, writing and producing shows like "American Gothic" and "Invasion." His life is quiet on his two-acre Los Angeles ranch with his family.
John Travolta (1970s)

Big break: "Saturday Night Fever," 1977

After starring in huge movies like "Carrie," "Saturday Night Fever," and "Grease," the world was John Travolta's oyster. Unfortunately, the eighties were a rough period for the actor, and he released a number of box office bombs such as "Blow Out" and "Staying Alive."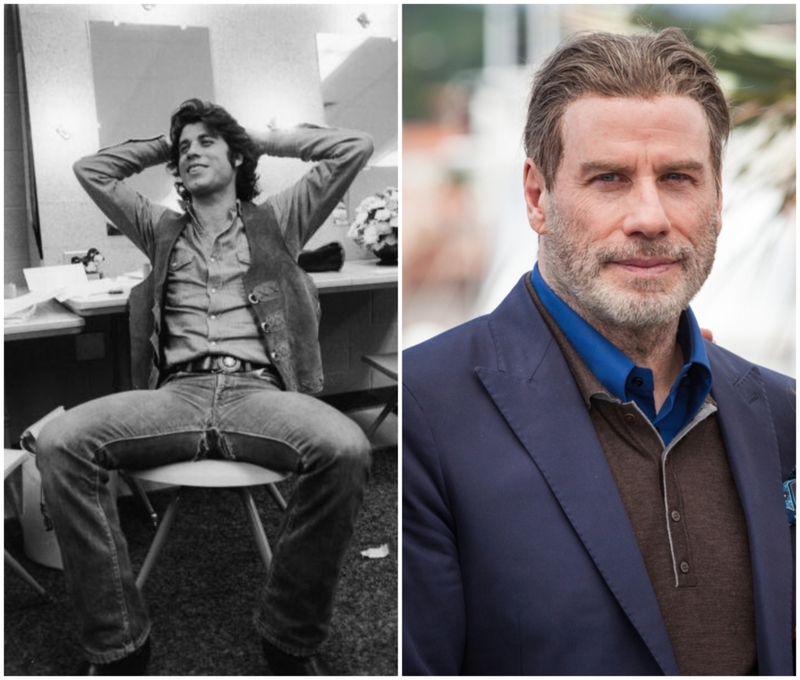 It was only thanks to Quentin Tarantino that Travolta got another chance at Hollywood, thanks to a starring role in the cult classic "Pulp Fiction." Due to the tragic death of his son Jett in 2009 and a 2012 lawsuit, Johnny boy, has been keeping a low profile but has had a few roles to speak of.
Henry Winkler (1970s – 1980s)

Big break: "Happy Days," 1974

Even if the name doesn't ring a bell, the fact that Winkler played the epitome of cool as "The Fonz" in "Happy Days" will help you picture him. Thanks to the immediate star power the show gave him, he's still doing plenty in and around the entertainment industry.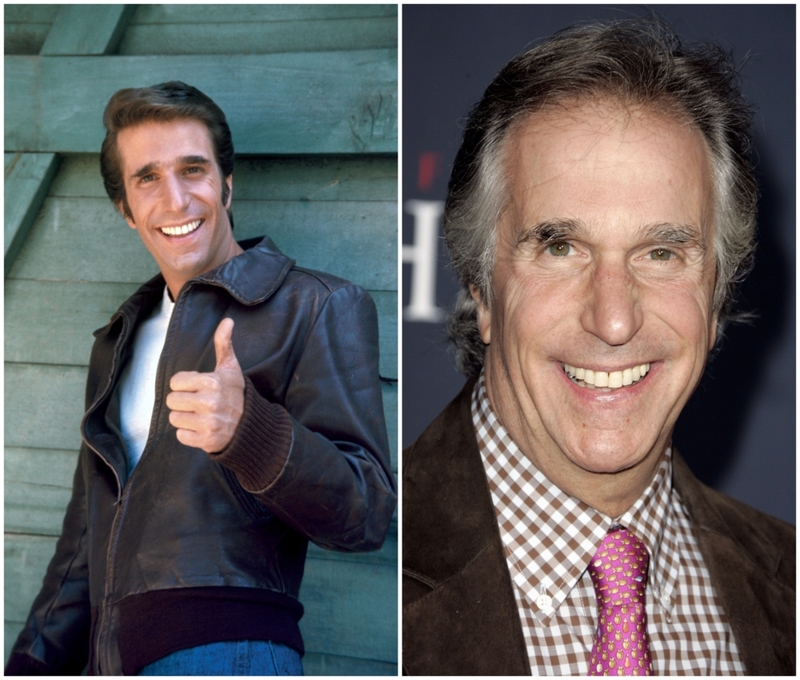 He's a character actor that still gets plenty of roles, including in "Arrested Development," "Numb3rs," "Royal Pains," and even "Children's Hospital" on Cartoon Network. During his spare time, he writes a children's book series, "Hank Zipzer," which is now at seventeen books, and spends time with his wife and children.
Johnny Tillotson (1960s)

Big break: "Poetry in Motion," 1960

Johnny put the time and work in to finally make it big. He had a musical variety show while he was in college at the University of Florida, and once he graduated, he signed with Cadence Records and moved to New York City. His big hit "Poetry in Motion" got to number two on the Billboard Hot 100 and all the way to number one on the UK Chart Singles.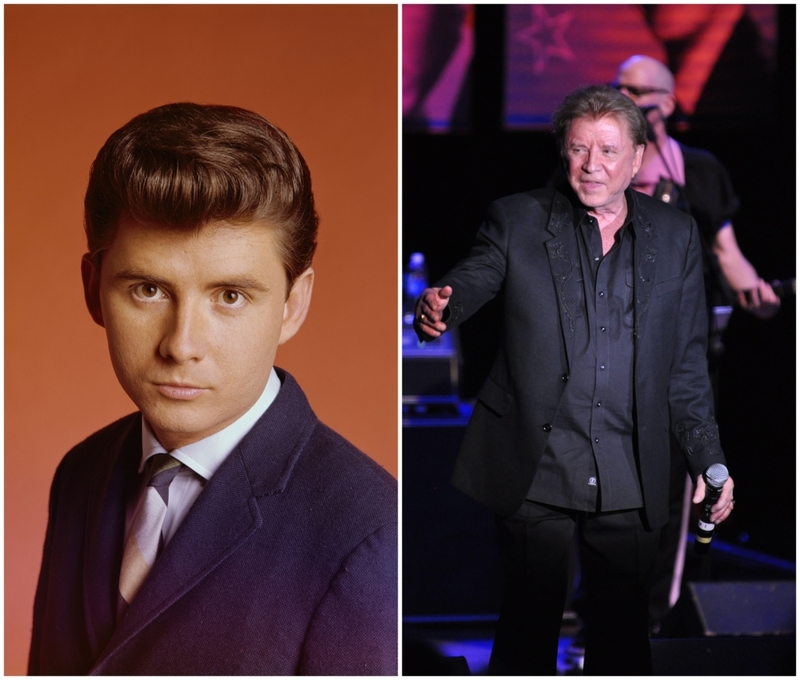 Tillotson was known as a crossover artist, able to make it big on both the pop charts and in the country music world. The kid even got a Grammy nomination thanks to "It Keeps Right On a-Hurtin.'"
The Shangri-Las (1960s)

Big break: "Leader of the Pack," 1964

An American pop group in the nineteen-sixties, the Shangri-Las charted numerous times thanks to their melodramatic and often heartbreaking songs. They got their start in Andrew Jackson High School in Cambria Heights, part of New York City.
The group was, for the most part, two sets of sisters: Mary and Elizabeth "Betty" Weiss, and identical twins Marguerite "Marge Ganser and Ann Ganser. The two Ganser sisters have sadly passed away, and before long, Betty Weiss decided she wasn't a fan of being on stage or touring. This flash-in-the-pan band didn't go on to do much more, but their songs are still fun to throw on.
James Darren (1950s – 1960s)

Big break: "Gidget,"1959

After being discovered by casting director Joyce Selznick, James Darren became a teen idol almost immediately, including starring in films and releasing a string of pop hits, which include his biggest, "Goodbye Cruel World," which reached a number three on Billboard in 1961.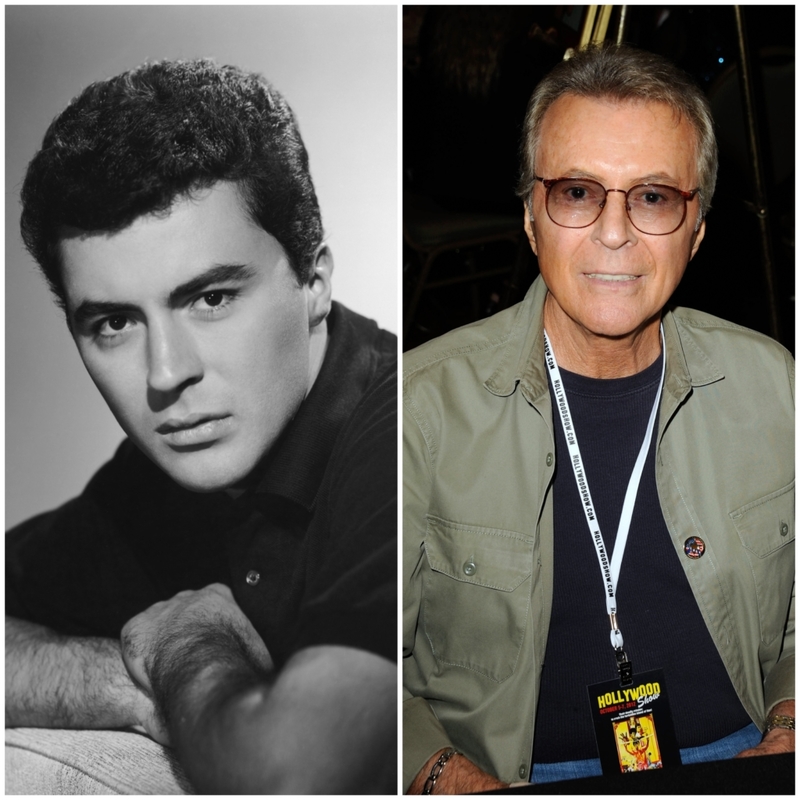 Of course, like many of these teen idols, he decided he wanted to pass to adulthood. He was able to do so thanks to a role in the gritty 1961 World War II film "The Guns of Navarone." After that, he achieved success as an impulsive and adventurous scientist, Tony Newman, in the science fiction TV show "The Time Tunnel," from 1966 to 1967.
Connie Stevens (1950s – 1960s)

Big break: "Kookie, Kookie, Lend Me Your Comb," 1959

Stevens got her start on the hit Warner Brothers TV series "77 Sunset Strip" before she released her novelty song in 1959. It was a duet with another actor on the program, Edward Byrnes. It got high on the Billboard Hot 100, all the way to number four.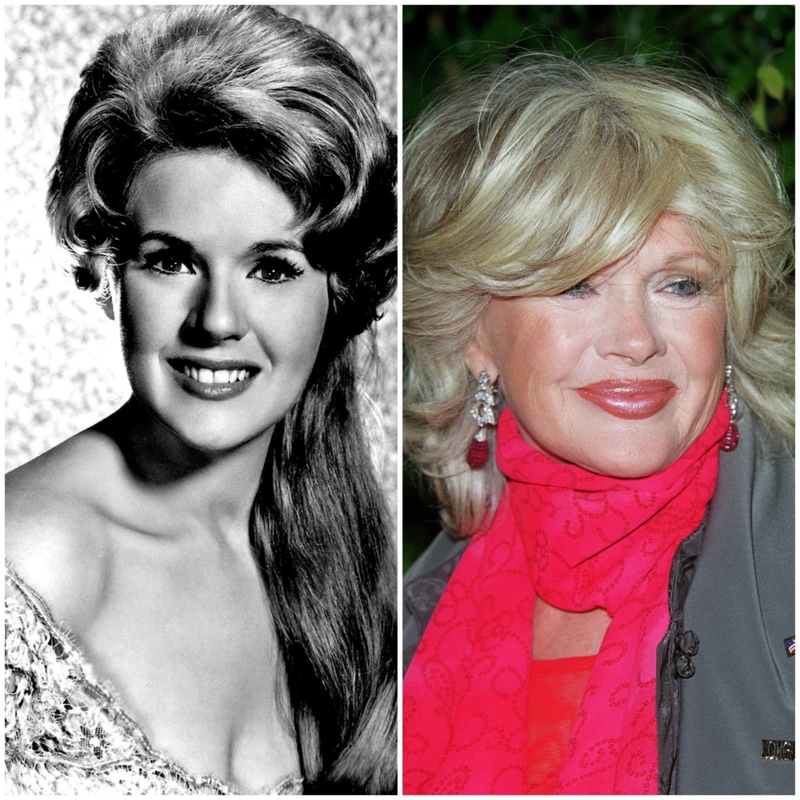 She had plenty of other releases, including the number three hit on the Billboard Hot 100, "Sixteen Reasons," which she released in 1960. She was also in several big movies at the time, including starring opposite Jerry Lewis, and continued to get a few small roles here or there through the decades. She made her directorial debut in 2009 with "Saving Grace B. Jones."
Marlon Brando (1950s-1960s)

Big break: "On the Waterfront"

Marlon Brando's career, popularity, and influence are unmatched. He had his big break in 1954 with the film "On the Waterfront" and went on to become a Hollywood staple. He is considered to be the first actor to popularize the Method Acting style.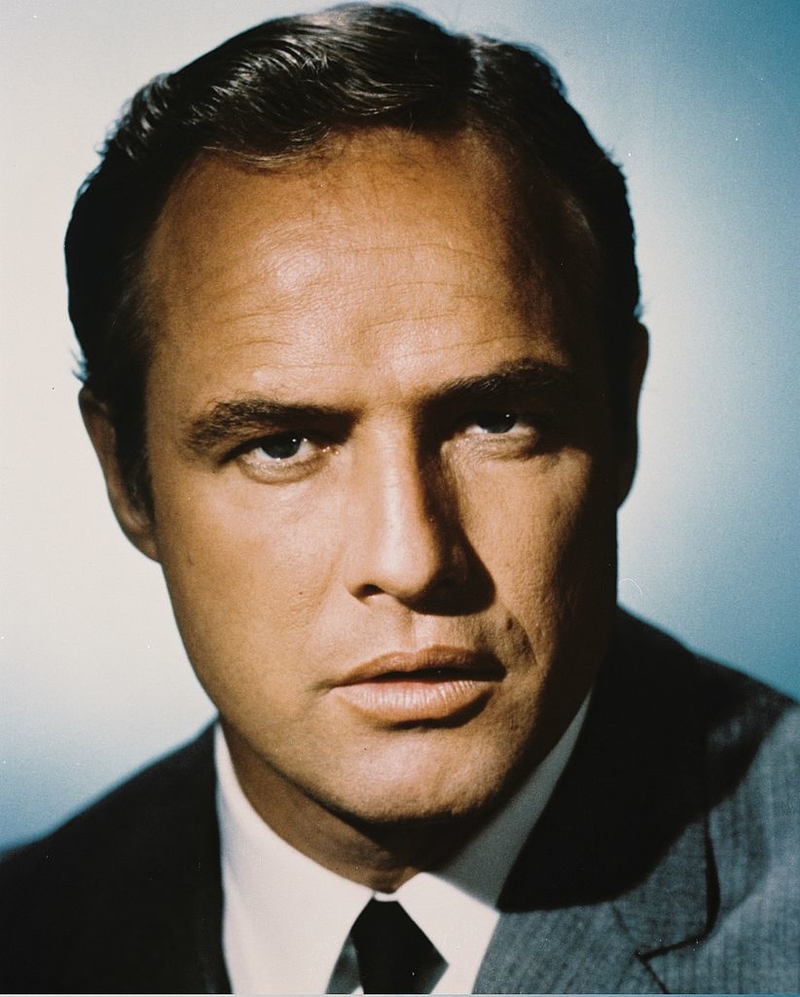 Brando was one of the highest-paid actors in the world and received a record $3.7 million for just 13 days of work in his cameo on 1978's "Superman." His most famous film is undoubtedly 1972's "The Godfather," a film that is widely regarded as the greatest film ever made. He passed away in 2004, at 80 years old.
Dean Martin (1950s-1960s)

Big break: Martin and Lewis

Two things that make Dean Martin irresistible are his charm and charisma. These are only two of the reasons why he was nicknamed "King of Cool." Everything he did, he did effortlessly well — from his comedy duo with Jerry Lewis to his acting and singing.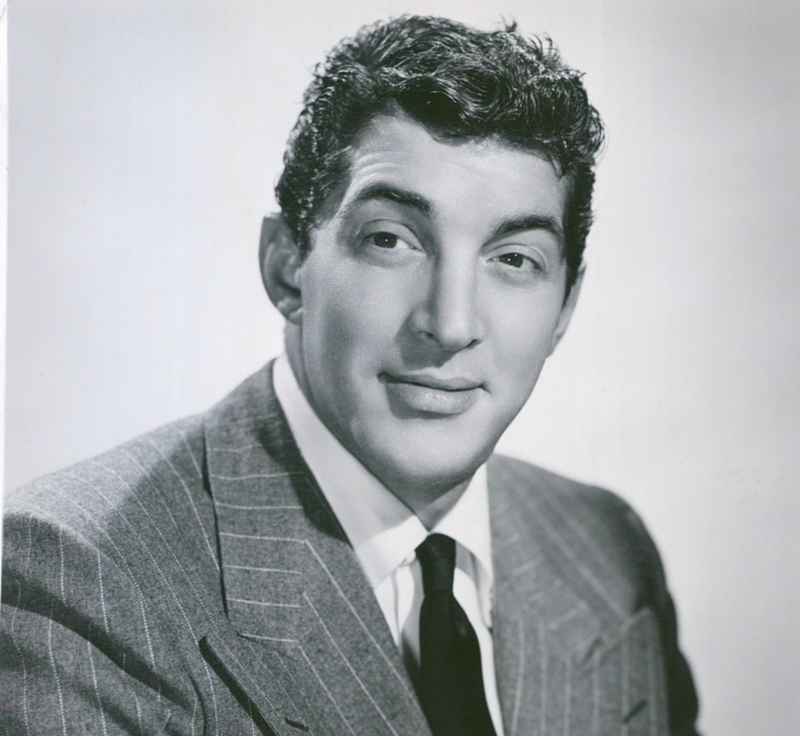 In his later career, Martin focused more on his music and recorded an average of four albums a year in the 1970s. Martin, who was a heavy smoker, suffered from lung cancer and other respiratory problems. He passed away on Christmas day of 1995 at 78 years old.
Bobby Sherman (1970s)

Big break: "Shindig!"

Bobby Sherman Started out as an actor, but it didn't take long for his other talents to shine as well. His first television appearance was on the show "Shindig!" and then started leaning into music as well. His music career won him five gold albums and seven Top 40 hits.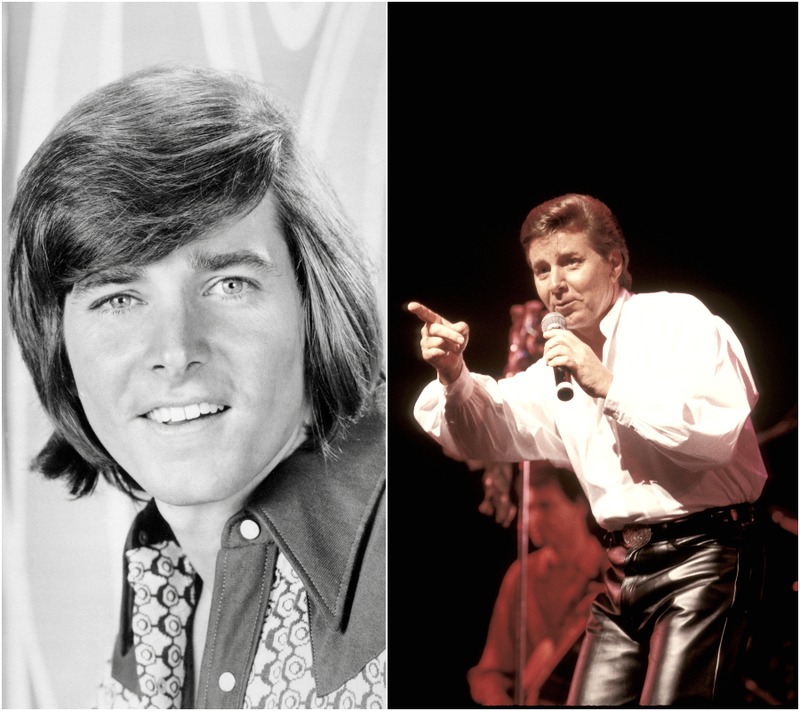 When Bobby felt like his Hollywood career wasn't fulfilling anymore, he chose a different path. He retired from showbusiness and started a career as an EMT and a sheriff's officer.
Vincent Van Patten (1970s)

Big break: "Bonanza"

Son of the actor Dick Van Patten, Vincent was encouraged to take the spotlight as a young boy, and he appeared in many commercials as a kid. He soon transitioned into bigger roles, starring in numerous films and TV shows, the first of which was "Bonanza."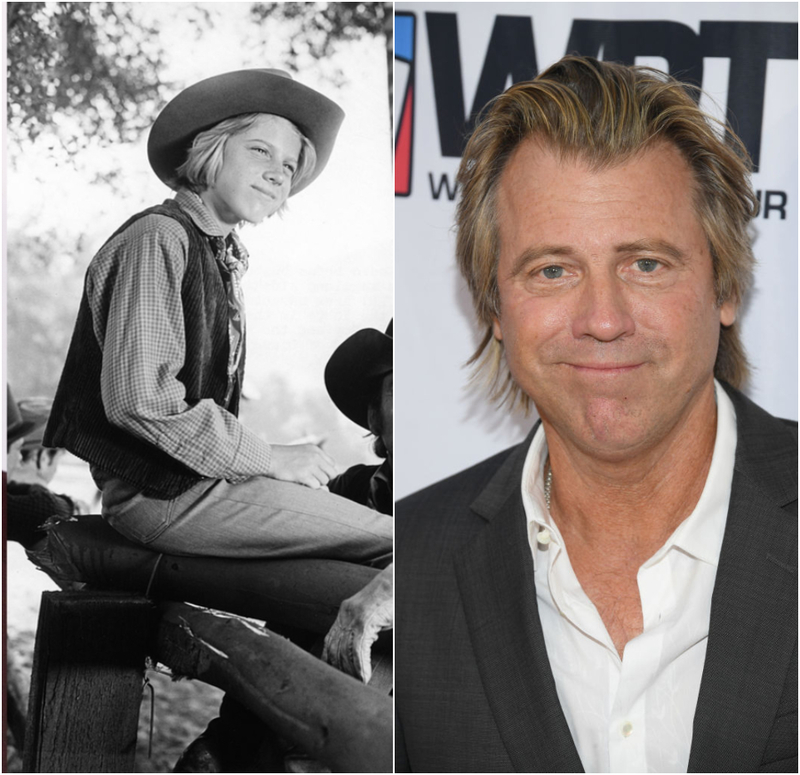 But Vincent is more than just an actor. He is also a talented tennis player with a well-established career and titles, as well as a successful poker player. So even though he doesn't act anymore, he has other ways to make a living.
Bobby Rydell (1960s)

Big break: "Wild One"

Bobby Rydell made the women of the 1960s swoon with a single stare. He became famous in the '50s on Paul Whiteman's "TV Teen Club" as a regular cast member. After many years on the show, Rydell turned to music, which didn't take off that well.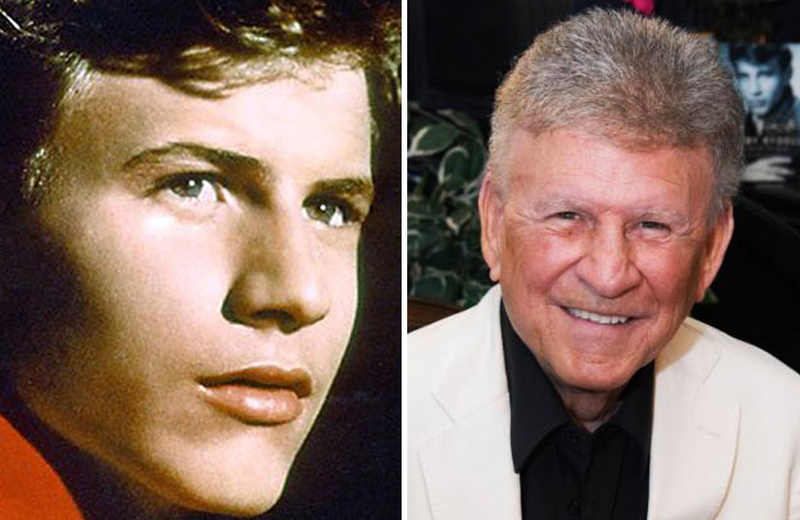 Eventually, however, he was cast in the hit 1963 movie version of "Bye Bye Birdie." Despite numerous health issues and undergoing kidney and liver transplant, he still performs around the world.
Mark Hamill (1970s)

Big break: "General Hospital"

Forever Luke Skywalker, Mark Hamill actually started his way as a voice actor. He later landed roles in shows such as "The Texas Wheelers" and "General Hospital" in the 1970s and was very popular even before landing the role of Luke.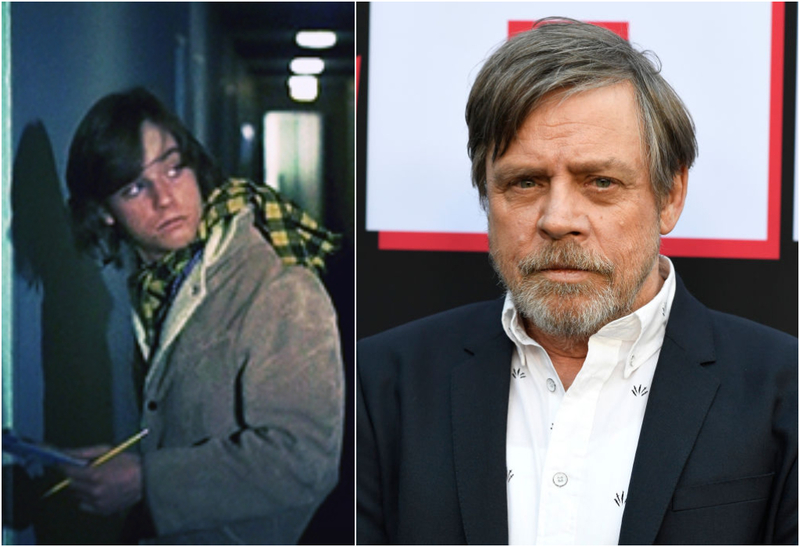 Luke won Hamill two Saturn Awards and a substantial place in American cultural history. He keeps acting to this day and has several newly announced acting projects to look forward to.
Christopher Knight (1970s)

Big break: "The Brady Bunch"

Christopher Knight is commonly known as Peter Brady from "The Brady Bunch." He later made guest appearances on other famous TV shows of the time, as well as a few sporadic film roles. While Knight made his first few bucks as an actor, he later found more success in the business world.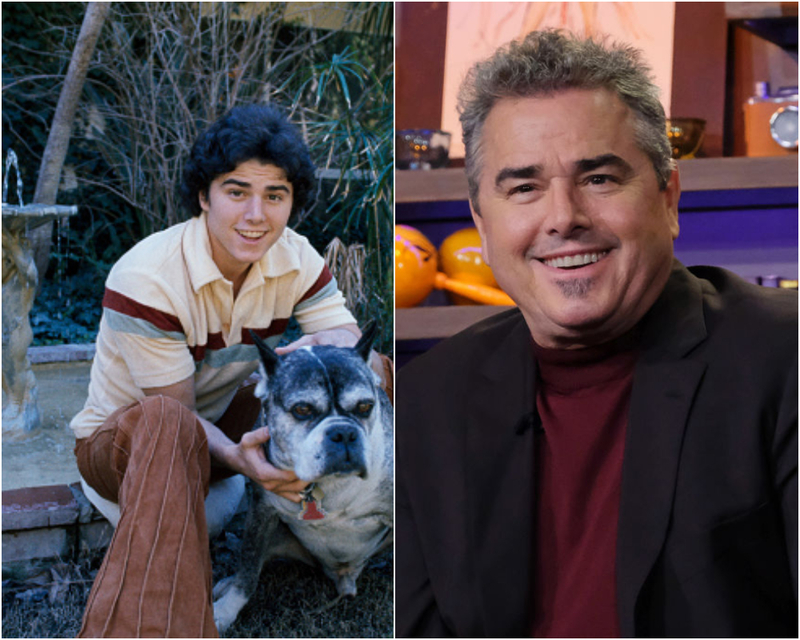 Knight went into the tech industry, eventually founding a few companies. The last one he founded, Eskape Labs, was bought out by a big US tech company. Romantically speaking, the man's been married four times. Hopefully, with his latest wife, Cara Kokenes, there's a little more lasting power.
Corey Feldman (1970s)

Big break: "Time After Time"

Feldman got his start in the 70s. His first role was at the age of three in a McDonald's commercial and had a role in the 1979 film "Time After Time." He and Corey Haim became good friends, and both struggled with substance abuse.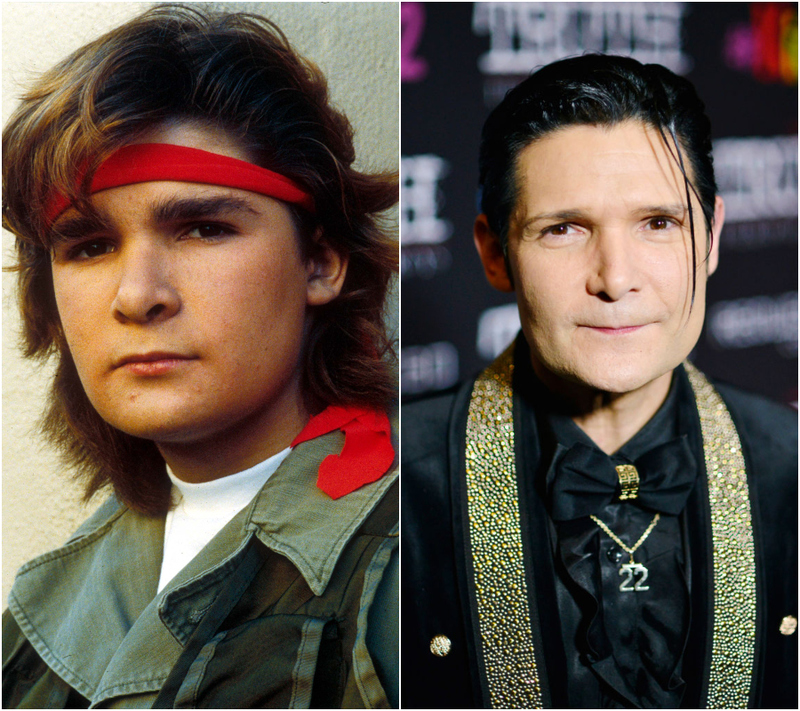 Corey later starred in classics such as "Gremlins" and "The Goonies" before turning to music. His music career didn't enjoy the same success as his acting career. He released 5 studio albums, the latest of which, "Angelic 2 the Core" (2016), flopped miserably.
Sal Mineo (1950s-1960s)

Big break: "Rebel Without a Cause."

Salvatore "Sal" Mineo became a bull-blown celebrity when he starred in "Rebel Without a Cause" alongside James Dean. The performance earned him an Oscar nomination, as well as a fanbase stretching as far as the eye can see.
He went on to star in many other hit films ("Giant," "Crime in the Streets," and "Exodus," to name a few). He was the first star to publically come out of the closet in the late 1960s. He found his unfortunate, untimely death at the hands of a mugger when he returned to his Los Angeles home after a rehearsal. He was 37 at the time.
Bobby Vee (1960s)

Big break: "Run to Him"

In 1961, Bobby Vee came out like a shiny new toy with his hit song "Rubber Ball." But the truth is that he'd been releasing flops for years prior. "Rubber Ball" is what turned him into an international star. The UK fans were particularly fond of him, with 10 of his hits charting at number one.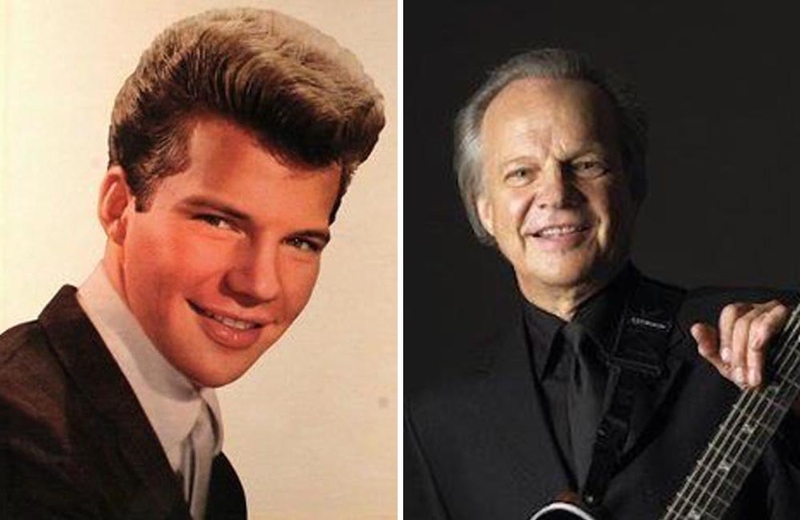 Vee was good friends with Bob Dylan. The two met when Dylan was young and still performing as Robert Zimmerman. Years went by, and Bobby kept playing his songs to his beloved fans until 2011 when he was diagnosed with Alzheimer's. He passed away 5 years later.
Ricky Nelson (1950s)

Big break: "Poor Little Fool."

Ricky Nelson grew up to be handsome and famous but had to work very hard as a child actor. He started out in the sitcom "The Adventures of Ozzie and Harriet." His family and quickly saw he could also sing and dance.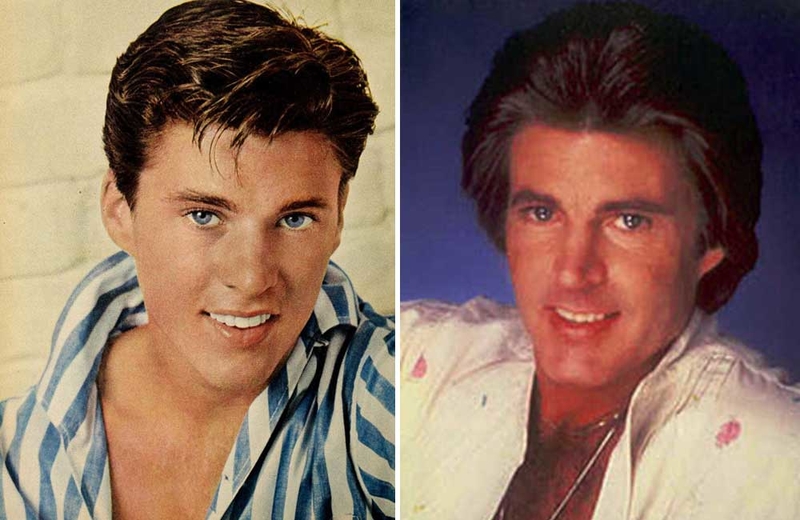 Over time, the dwindling fanbase made Nelson less popular. He tragically died in a plane crash in 1985 during his comeback tour.
Elvis (1950s-1960s)

Big break: "Can't Help Falling in Love."

Mississippi born Elvis had his big break with the hit "Heartbreak Hotel" and became a household name in and out of the US. His smooth voice and shaking hips welcomed us into the era of rock n' roll.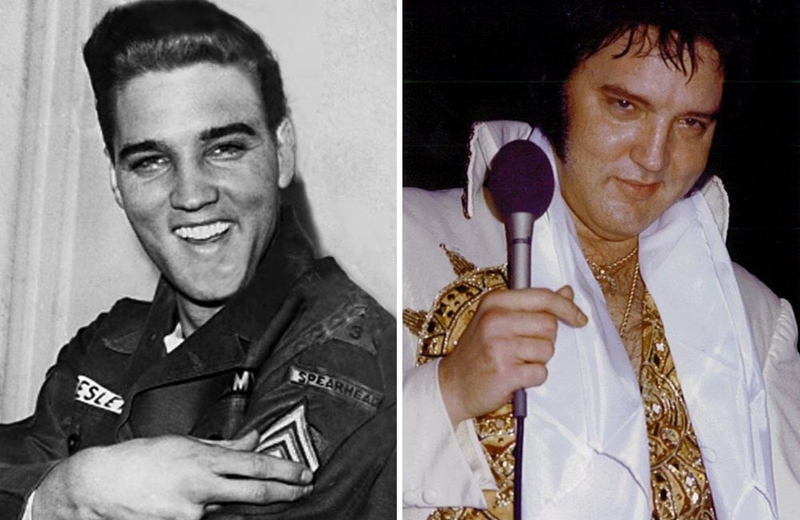 What started as a glamorous career in the 1950s was waning towards the late 1960s. His problematic private life took a toll on The King's health as well. At 42 years old, Elvis died from a heart attack.
Richard Thomas (1970s)

Big break: "Winning"

Known to many as John-Boy from "The Waltons," Richard Thomas has built up an impressive acting record by his 20th birthday. One of his first major film roles was in "Winning" in 1969, where he played alongside Paul Newman.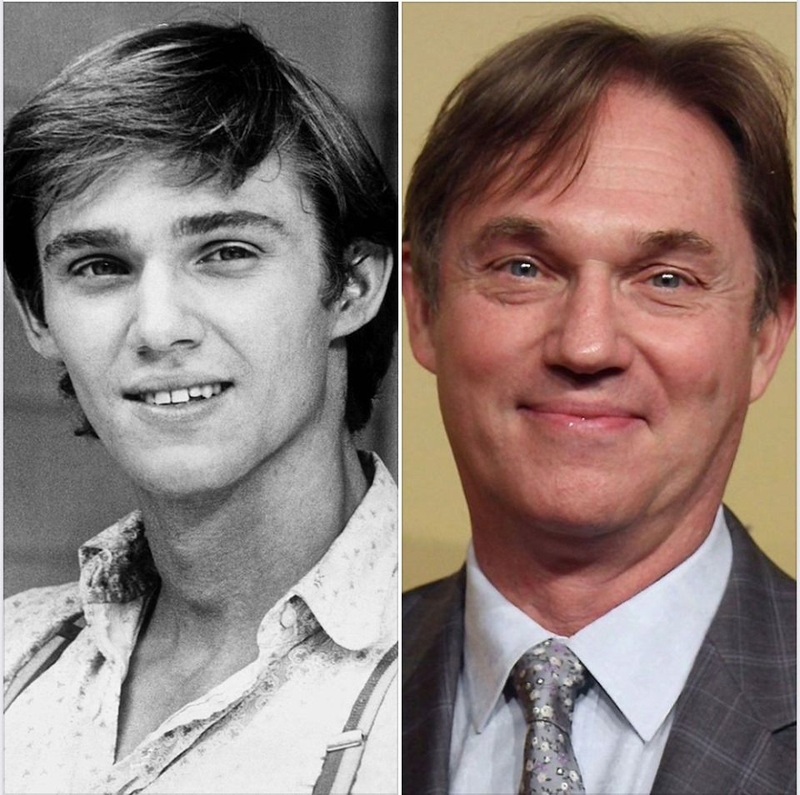 After leaving "The Waltons," Richard experienced a successful theater career, which included "Fifth of July" and "Richard II." In 2009-2010, Thomas appeared in the Broadway play "Race" by David Mamet. He acted alongside James Spader, Kerry Washington, and David Alan Grier.
Barry Williams (1970s)

Big break: "The Brady Bunch"

Born in '54, Barry Williams knew that he wanted to be an actor from a young age. He made his TV debut on "Dragnet" in 1967.  Two years later, they took the world by storm as Greg Brady on "The Brady Bunch." Once the show ended in 1974, Williams tried switching to the musical theater but was continuously typecast as the Greg Brady type character.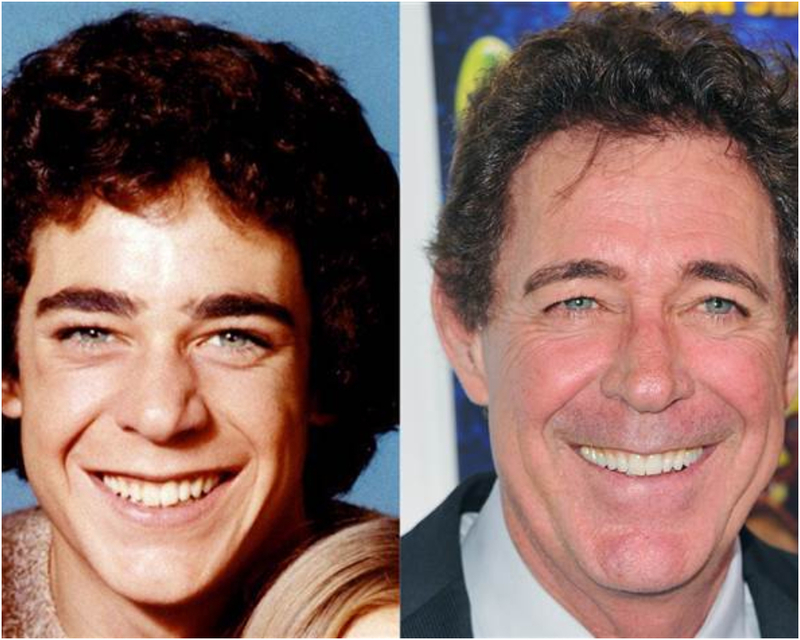 Williams also fancies himself a rapper. In 2000 Williams parodied Eminem's "The Real Slim Shady" titled "The Real Greg Brady." And as far as what he's up to recently? Well, his latest film, "Flea," came out in 2018, with him starring as the Marsh Man.
Jay North (1960s)

Big break: "Dennis the Menace"

The modern cartoon version of "Dennis the Menace" is nothing like the older, live-action one starring Jay North. North became famous as little Dennis in 1959, and the show ran until 1963. This role brought on many suggestions for other acting parts.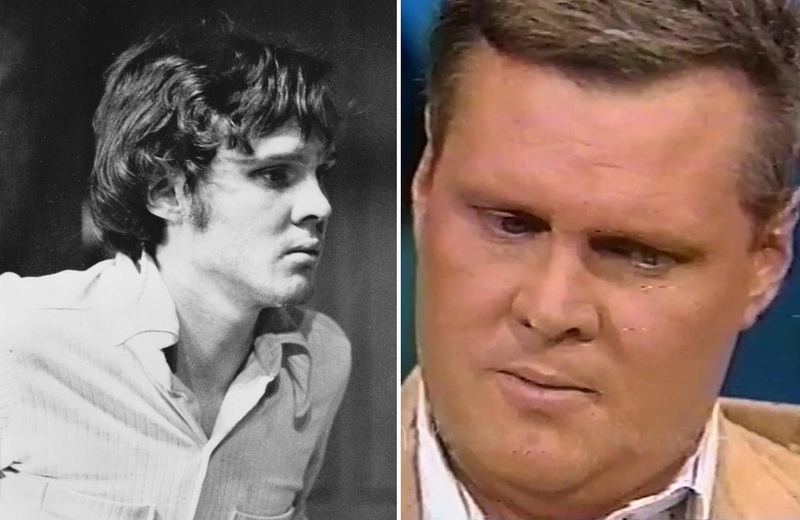 Years later, adult North transitioned into voice acting for animated shows. In 1977, North quit acting altogether and joined the navy. He later became an activist for child actors' welfare.
Troy Donahue (1950s-1960s)

Big break: "A Summer Place"

Before becoming an actor, Troy Donahue (then Merle Johnson Jr.) studied for a journalism degree. With his eyes set on Hollywood, he met with an agent who advised he changed his name and started booking him acting gigs. His breakthrough role was in the film "A Summer Place" alongside Sandra Dee. With his incredible good looks, the fans soon appeared in masses.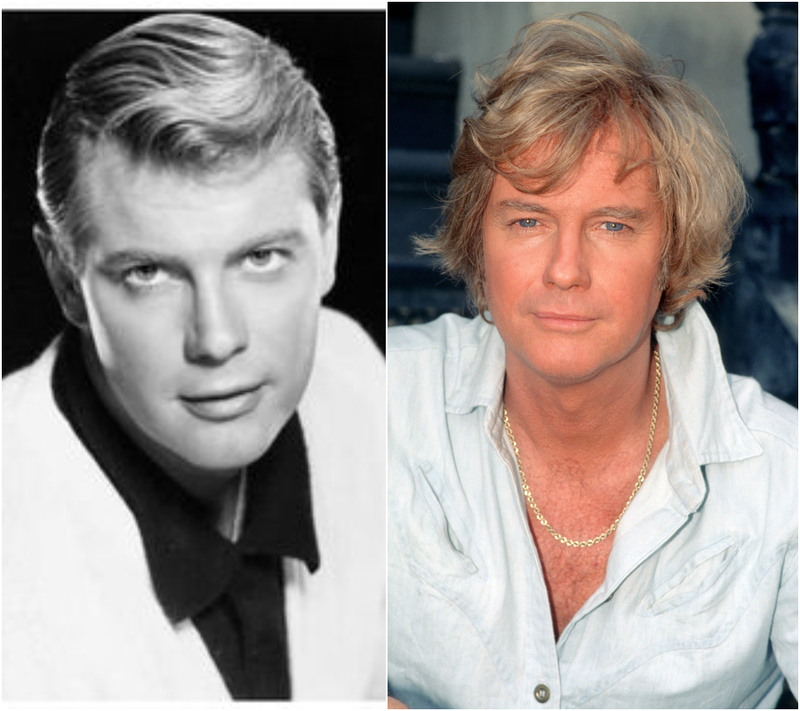 Dealing with the success sent him to a downward spiral of substance abuse, which was hard to recover from. After his rehab, Donahue appeared in a number of small roles. He passed away from a heart attack in 2001 at 65 years old.
Jackson Five (1970s)

Big break: "I Want You Back"

The Jackson Five rose to prominence with their hit single, "I Want You Back," and took the world by storm. Young Michael Jackson eventually turned out to be the biggest star of them all, but he was also probably the most troubled one too.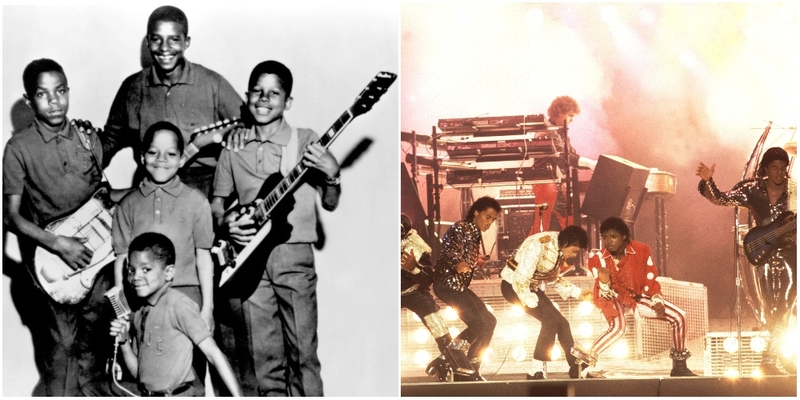 His many successes, as well as his more troubling moments, can be credited to his father, Joe, who was notoriously tough with his children. He conceded to treating them harshly in an interview with Oprah and constantly made his children rehearse, especially in the early days of the band. The rest of the Jacksons still nurture showbusiness careers.
Dwayne Hickman (1950s)

Big break: "The Many Loves of Dobie Gillis."

In another life, Dwayne Hickman would have been a priest. In this life, he's a superstar. Hickman owes a lot of his career to Bob Cummings, who cast him as "Chuck" on his show when he was still in college! In 1958, Hickman was cast in "The Many Loves of Dobie Gillis" as the titular character for four years. However, like many teen stars, he became stereotyped and was only offered certain roles.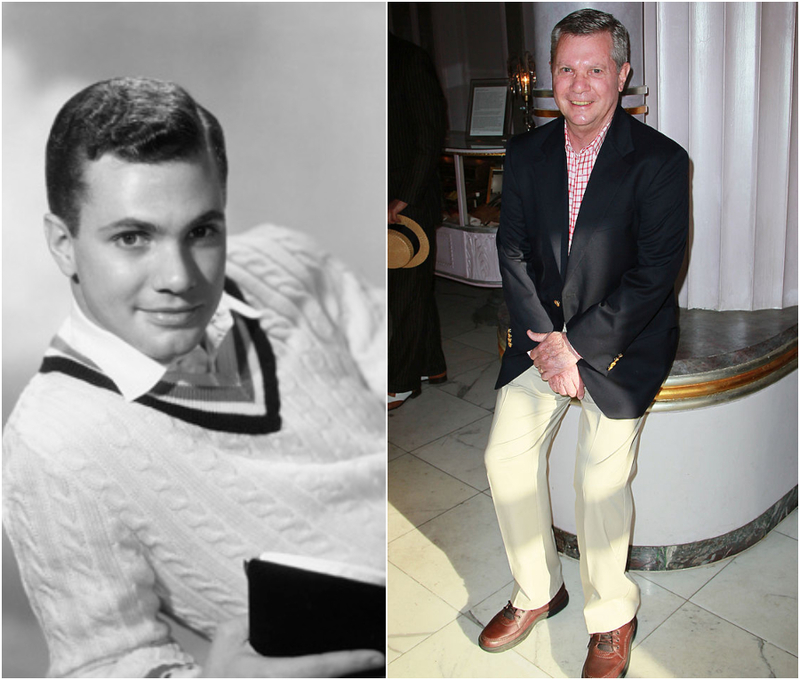 Later on, Hickman found more success in being involved in production roles, working at CBS as a programming exec! Well, you know what they say — when one door closes, another opens!
Julie Dawn Cole (1970s)

Big break: "Willy Wonka and the Chocolate Factory"

Julie Dawn Cole got her start as the extremely spoiled child Veruca Salt in "Willy Wonka and The Chocolate Factory." Her character's image stuck, and she was later cast to play roles of snobbish mean girls quite frequently.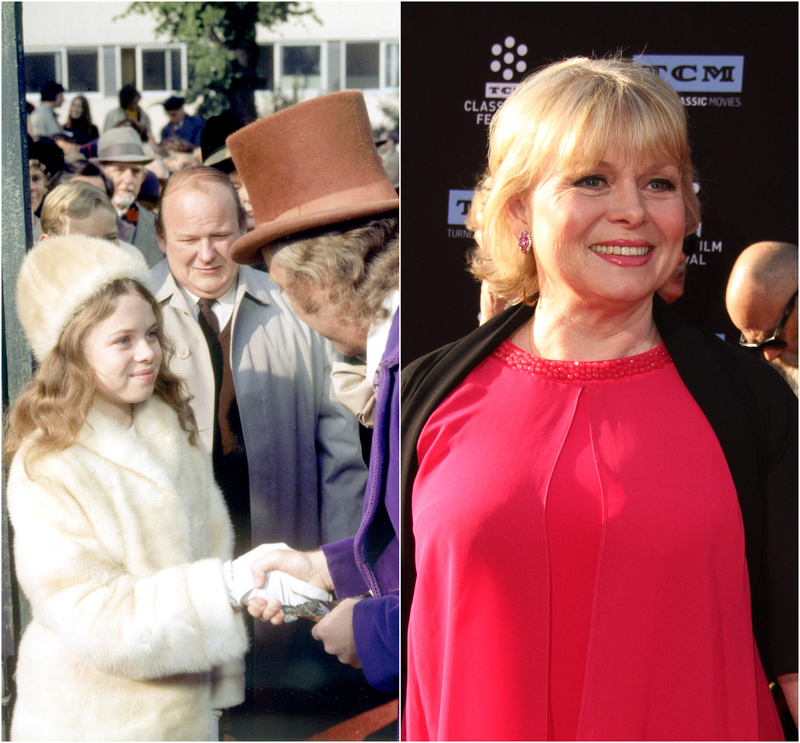 Julie now has a drama school for children and works as a psychotherapist. She is a mother of two and leans on her background as Veruca Salt to aid in parenting. Whenever her daughter, Holly, would do something bratty, Julie would say, "Is there a problem, Veruca?" which always slowed the girl's roll.
Roy Orbison (1950s-1960s)

Big break: "Ooby Dooby"

Roy Orbison is mostly known for his hit single "Oh, Pretty Woman," which became the theme song for the successful movie of the same name. However, the Big O signed his first record contract long before that in 1956. His first big hit was "Ooby Dooby," which was recorded with his college friends.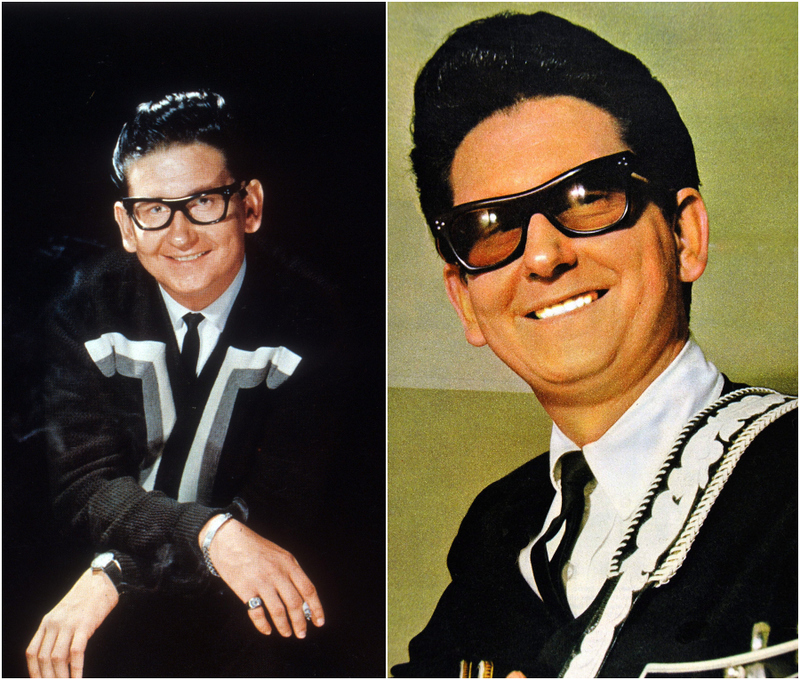 Orbison became influential to many famous artists such as The Rolling Stones, and he even toured with the Beatles in 1963. His popularity took a dip in the 70s and resumed in the 80s. He passed away from a heart attack in 1988 at 52 years old.
Ann Margret (1960s)

Big break: "Bye Bye Birdie"

Ann Margret is mostly known as the sweet girl singing "Bye Bye Birdie" in a high-pitched-yet-pleasant voice. Her part in the film became an iconic cultural reference that stuck around for decades. Margret went on to star in more films in the 1960s, establishing herself as an it-girl.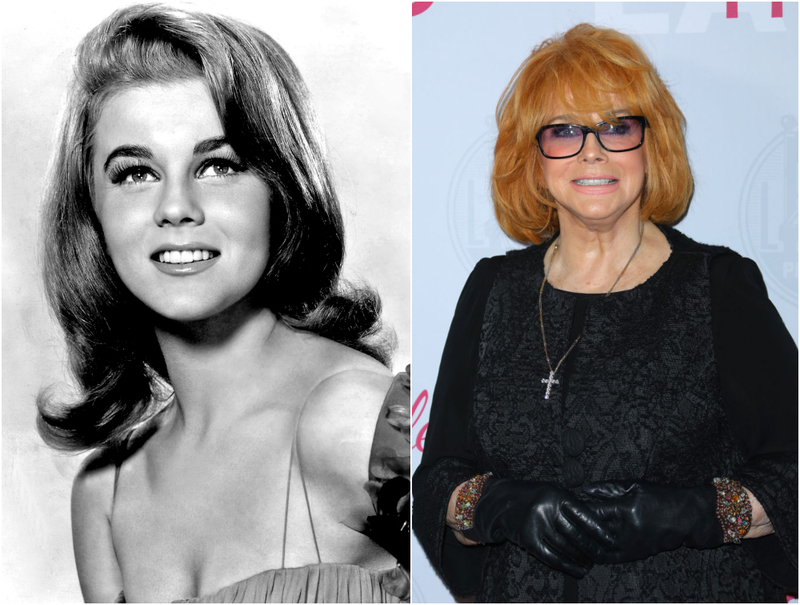 In the 1970s, Ann was involved in a horrible accident after which she needed extreme facial reconstruction. The surgery was successful, and she continues to act, most notably in shows like "Law & Order" and "CSI."
Paul Petersen (1950s-1960s)

Big break: "The Donna Reed Show"/"My Dad."

"The Donna Reed Show" propelled many actors to stardom. Paul Petersen, a child star at the time, played teenager Jeff Stone on the show from 1958-1966, much to the enjoyment of his growing fanbase.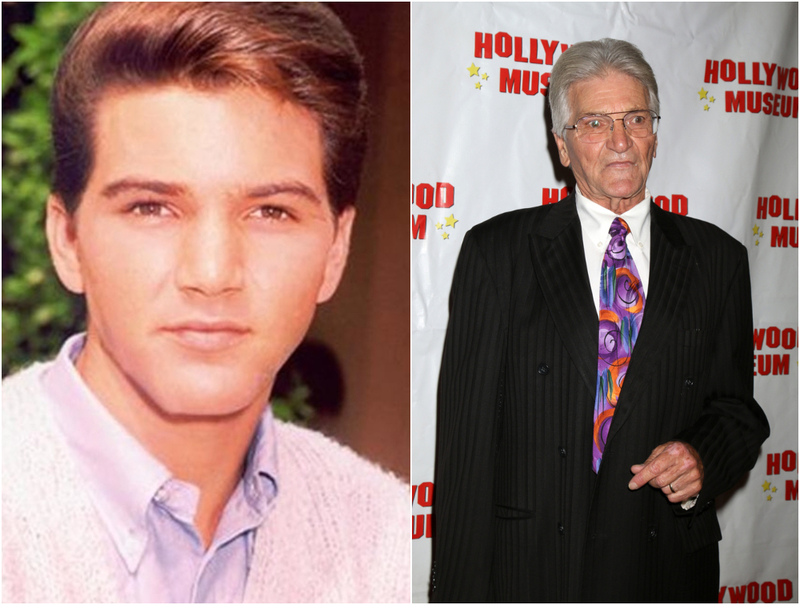 He was pursued by many record labels after singing "My Dad" and "She Can't Find Her Keys" on the sitcom. Over the years, he was discovered as an author as well, writing novels and an autobiography. Now, at 74 years old, he campaigns for child actors' welfare.
Johnny Crawford (1950s-1960s)

Big break: "The Rifleman."

Johnny Crawford is another star who became famous at a young age thanks to the "Mickey Mouse Club." Mouskateers of our time are nothing new (Hi, Ryan Gosling!), but Crawford was one of the firsts. He later came to his own at 12 years old (!), playing the role of Mark McCain in the western series, "The Rifleman."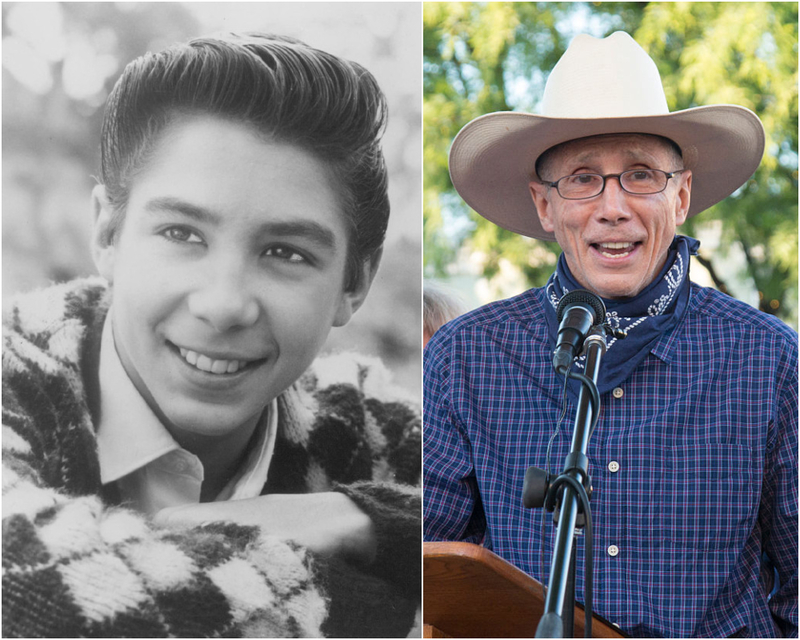 He proved himself as an actor and a singer (five top-40 singles!), and his popularity knew no bounds. He has led a long, fruitful career, and although he has retired from the spotlight, he can still be spotted sometimes at industry events.
Donny Osmond (1970s)

Big break: The Osmonds

How many albums has Donny Osmond recorded throughout his life? Try Sixty. This Osmond brother also found success among his family in The Osmonds, the band that brought stardom to them all. Later, Donny also had a variety show with his sister Marie. In the eighties, Donny released a solo pop album and also made a turn as Gaston in a Broadway production of "Beauty and the Beast."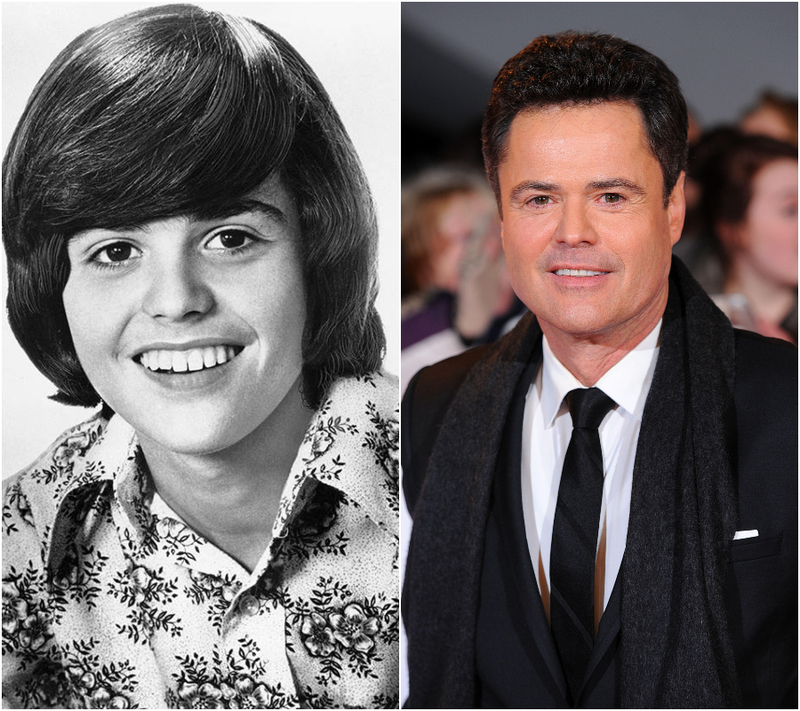 The Osmonds still perform together in Las Vegas, and Donny also appeared in the ninth season of "Dancing With the Stars," which he won!
Neil Sedaka (1960s)

Big break: "Ring-a-Rockin'"

Neil Sedaka has been one of the most popular performers and songwriters since the 1950s. He got his big break after he departed from his previous musical group, the Linc-Tones, and embarked on a solo career.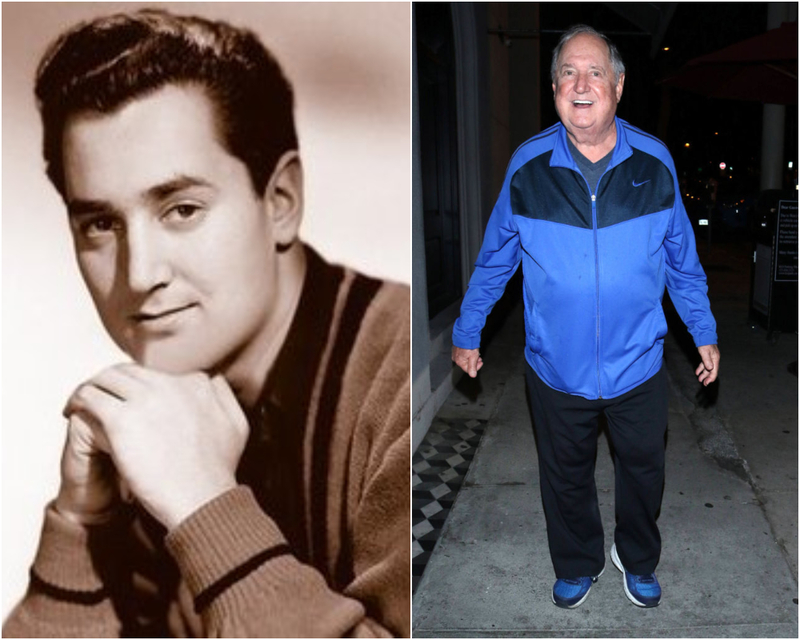 Over the years, Sedaka slowly transitioned from teen idols to appeal to a more diverse audience. He never stopped making music and released his latest album, "I Do It for Applause," in 2016.
James Dean (1950s)

Big break: "Rebel Without A Cause."

James Dean's career wasn't a long one, but it definitely left a mark on the Industry. As an aspiring actor, Dean was a film extra before getting his big break at the prestigious Actors Studio in the 1950s. When people saw his talent in "East of Eden" in 1953, he officially became an icon.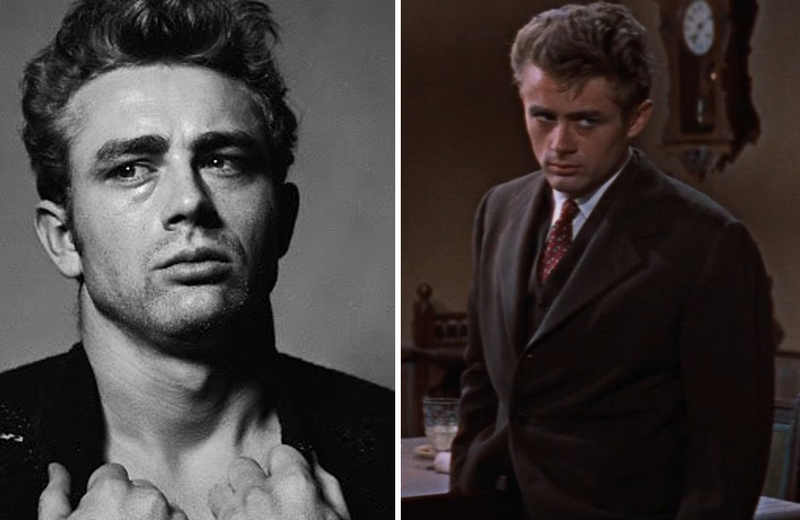 His rugged image made "Rebel Without A Cause" a 1955 hit, but sadly, he never got to enjoy the film's success. At 24 years old, Dean, who liked racing cars in his spare time, died in a tragic crash before the movie was released.
Davy Jones (1960s)

Big break: The Monkees

Commonly known as the frontman of The Monkees, Davy Jones was actually an actor first. His fun attitude and good looks helped him get the part of Jack Dawkins (Artful Dodger) in "Oliver!" — the West End musical.
Jones decided to pursue a career in music when he saw The Beatles perform. He did okay as a solo artist, but things really changed for him when he joined The Monkees. "I Wanna Be Free" and "Daydream Believer" were the hits that introduced Jones to significant fame. In 1971, the band broke up, and Jones went back to acting until he passed away from a heart attack in 2012.
Fabian Forte (1950s-1960s)

Big break: "American Bandstand"

Just like "American Idol," "American Bandstand" was a huge springboard for young singers. And just like Kelly Clarkson, Fabian Forte owes his career to that show.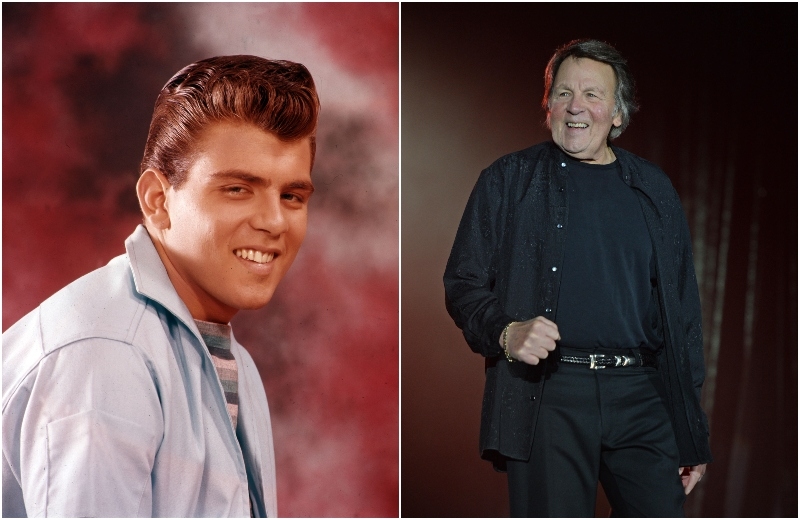 Forte only started thinking of a singing career when he was spotted by Bob Marcucci, the owner of Chancellor Records. At first, he turned Marcucci's offer down, but he came around eventually. He went on to have hit songs like "Turn Me Loose" and "Tiger."
Connie Francis (1960s)

Big break: "Who's Sorry Now?"

Connie Francis was close to giving up on music after releasing singles that didn't catch on. Her father then asked her to record a cover to "Who's Sorry Now?" which turned out to be exactly what she needed to succeed.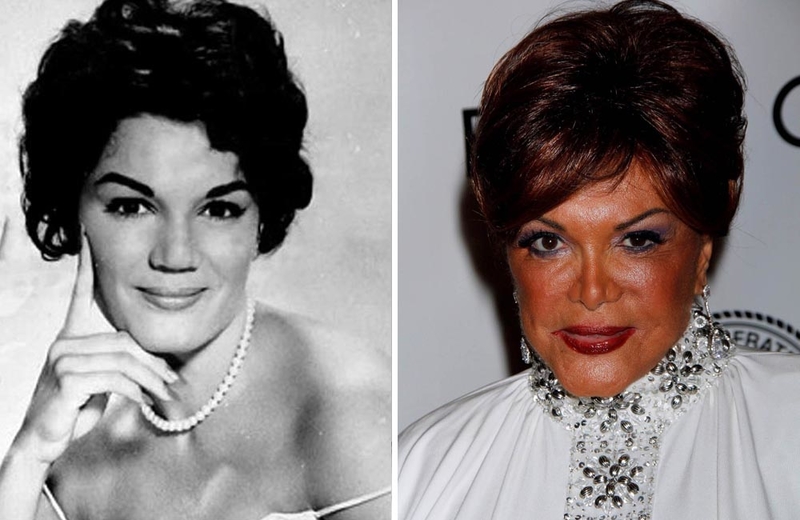 She rode that fame horse through the 1960s but sadly, it didn't carry her through the '70s. After being brutally attacked in a hotel room she stayed in, she sank into depression for a while. Francis pulled through many personal tragedies over the next decade. At 82 years old, she's still active.
Mark Lester (1960s-1970s)

Big break: "Oliver!"

Mark Lester made a name for himself playing the title role in the musical film "Oliver!" in 1968. He was quickly showered with other acting suggestions, including in European cinema, making him an international star.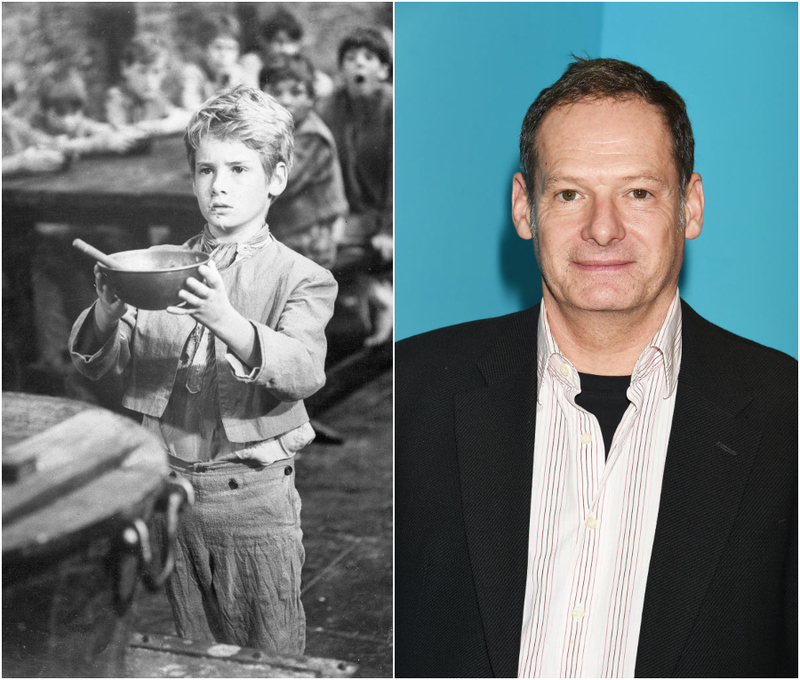 Lester had a tough time dealing with his success. At 18 years old, he became reckless with his money and descended into substance abuse. A year later, he decided to retire from acting. He trained in martial arts and became a certified osteopath.
Scott Baio

Big break: "Happy Days"

You're likely to remember Baio from "Happy Days," but he was also one of the title characters on the spin-off "Joanie Loves Chachi." He also had the lead role in "Charles in Charge." He went on to have other cinematic roles in films like "Baby Talk," "Perry Mason and the Case of the Fatal Fashion," and "Very Mean Men."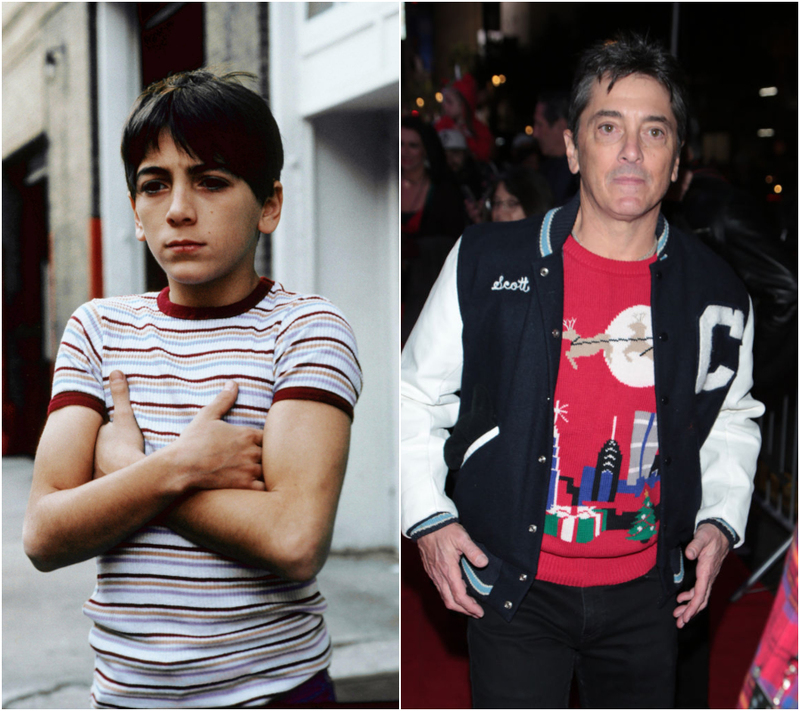 Baio is not only an actor but also a philanthropist — when his daughter Bailey has been diagnosed with a couple of severe health problems; he founded the Bailey Baio Angel Foundation to provide financial aid to families in similar situations.
Jack Wild (the 1960s-1970s)

Big break: "Oliver!"

Jack Wild made his acting debut as Dodger in the musical "Oliver!" in England in 1968. He was 16 at the time and was already nominated for an Oscar for that role. His stature in the industry at the time sent him to the US for a role in the kids' show "H.R. Pufnstuf" — a role which paid him $1 million!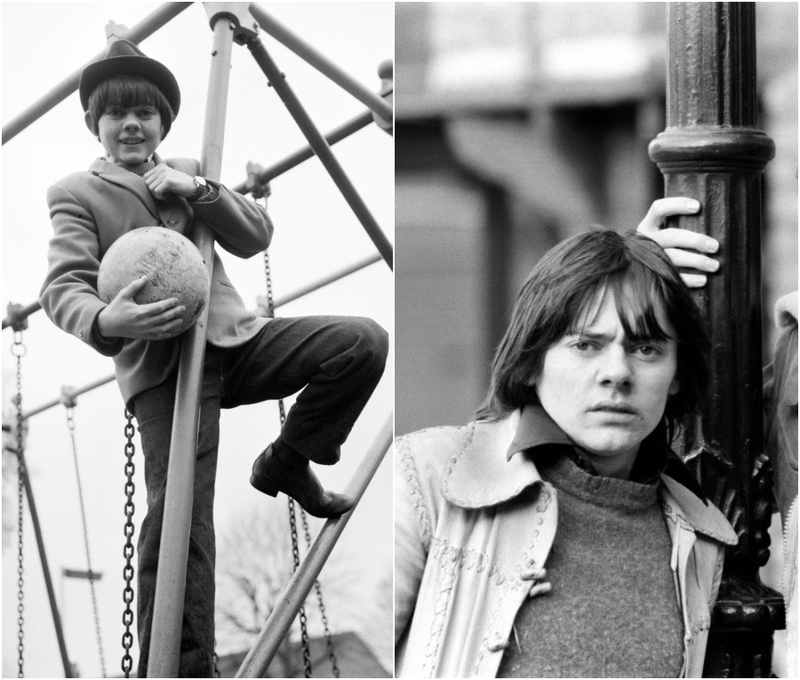 Success took its toll on Wild, who smoked and drank regularly. At 24 years old, the problem became so severe he could no longer act. After an extensive rehab process, he regained enough strength for short on-screen performances. He passed away in 2006 after battling aggressive cancer.
Luke Halpin (1960s)

Big break: "Flipper"

Animal-based movies and TV shows like "Flipper" were incredibly trendy in the 1960s. The franchise was maybe named after the dolphin, but Luke Halpin was definitely the star playing the role of Sandy Ricks.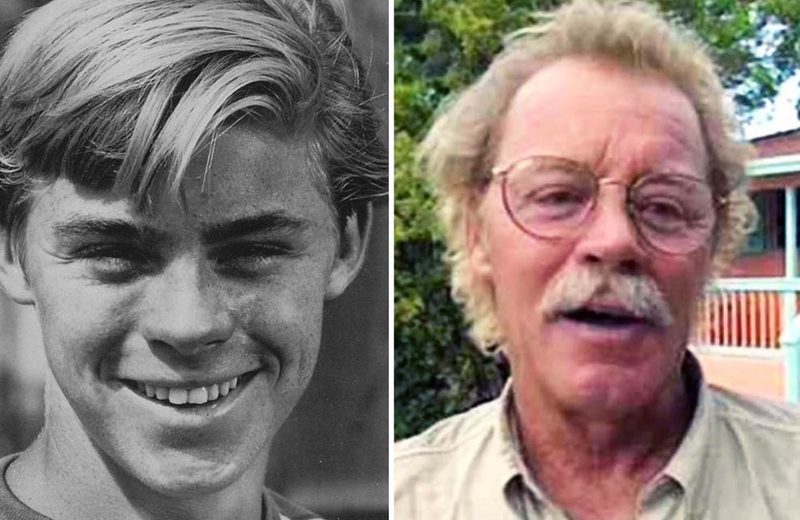 Halpin stuck with the character for the rest of the franchise as well as the TV show. He kept acting until shifting into stuntwork in the 1980s. At 73 years old, Halpin and his wife live in Florida. Unfortunately, he is battling both stage five neck and head cancer (in remission) and Alzheimer's disease.
Annette Funicello (1950s)

Big break: "Mickey Mouse Club"/"Tall Paul."

We all know that stars like Britney Spears and Christina Aguilera started out in the Mickey Mouse Club, but the show has been creating stars long before that. This is how Annette Funicello got her claim to fame.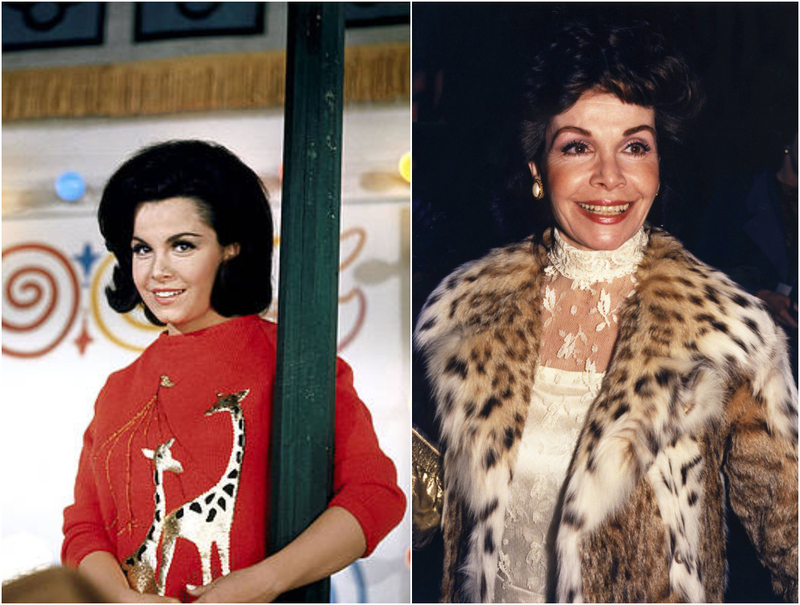 Funicello was adored by the fans and by Walt himself, who gave her the role of Anita Cabrillo in "Zorro," the TV show. By the 1980s, Funicello had a well-established career as an actress and musician, but it came to an abrupt end when she was diagnosed with multiple sclerosis. In 2013, Funicello passed away.
Frankie Avalon (1950s-1960s)

Big break: "Venus"

Frankie Avalon had the eyes of many young women on him in the '50s after singing "Venus." Other hits were just up ahead, topping charts left and right. Wanting to appeal to teens and adults alike, he didn't want to be categorized as a teen idol.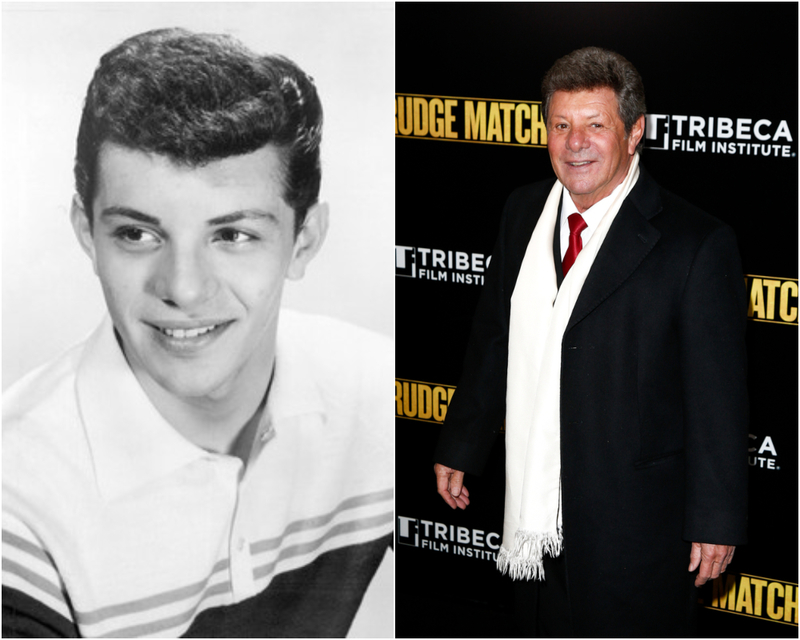 He later starred alongside Annette Funicello in the "Beach Party" movies. Avalon tried to appeal to different audiences in the 1970s with the song "Beauty School Dropout" from the "Grease" soundtrack. At 79 years old, he doesn't perform much apart from small guest appearances. He did, however, release a cookbook!
Paul Newman (1960s)

Big break: "Cool Hand Luke."

Actors who pursue careers in other fields are nothing new, but Paul Newman was probably one of the first ones who did it well enough to become a pro. Even with roles in iconic films like "The Hustler" and "Cool Hand Luke," Newman still made time for another career as a race car driver.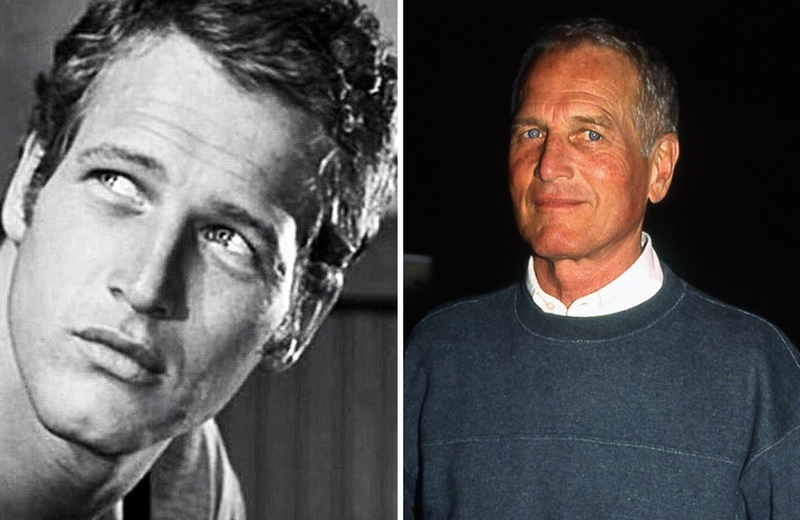 He was pretty good at it, too, and even won some titles. Newman retired from acting in 2007 and passed away a year later at 83 years old after fighting lung cancer.
David Cassidy (1970s)

Big break: "The Partridge Family"

David Cassidy was one of the main heartthrobs of the 1970s. His lush hair and bright smile helped him win over the audience who watched "The Partridge Family."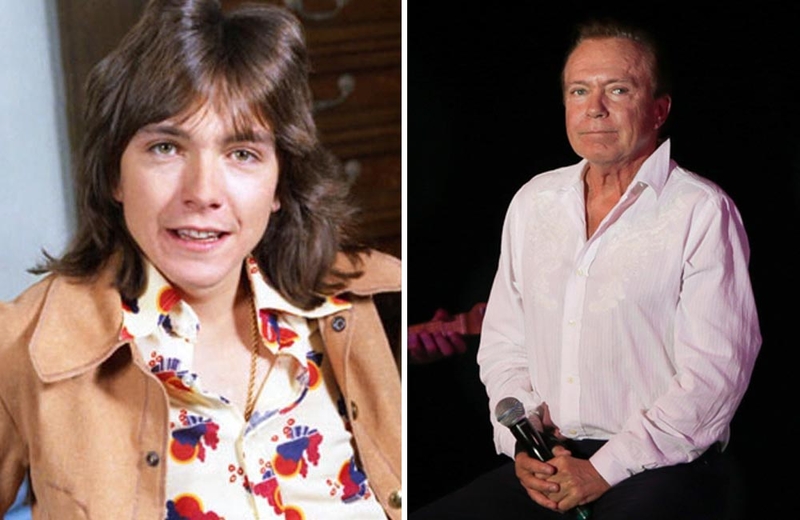 Cassidy was drawn to rock n' roll, but his fans were more interested in pop music. The craze around him was so hectic that it made him decide to quit touring. Years later, when he made a comeback, his fans were overjoyed, but he still filed for bankruptcy in 2015. In 2017, Cassidy suffered liver failure and passed away.
Tab Hunter (1950s)

Big break: "Battle Cry"

Tab Hunter had his eyes set on acting from the get-go. Even his Coast Guard friends called him "Hollywood" because movies were all he could talk about. All this talking made Hunter one of the biggest names of his time.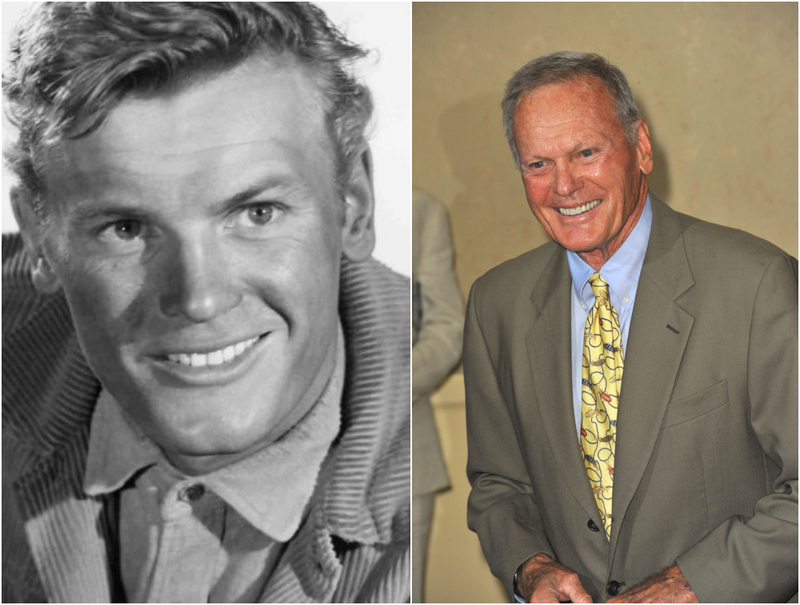 On Valentine's Day of 1956, he got 62,000 cards! After making a name for himself in several Warner Bros. hit films, Hunter started dabbling in singing. By the 1970s, rumors about Hunter's romantic tendencies caused a decrease in his popularity. That didn't stop him from having a 35 year-long loving relationship with Allan Glasser, a movie producer who mourned his 2018 passing.
Leif Garrett (1970s)

Big break: "Come Back When You Grow Up"

Garrett started making his way through the spotlight as a child actor, but he didn't reach his teen idol status until he started making music in the 1970s. After appearing in a number of films as a child, Garrett transitioned into music.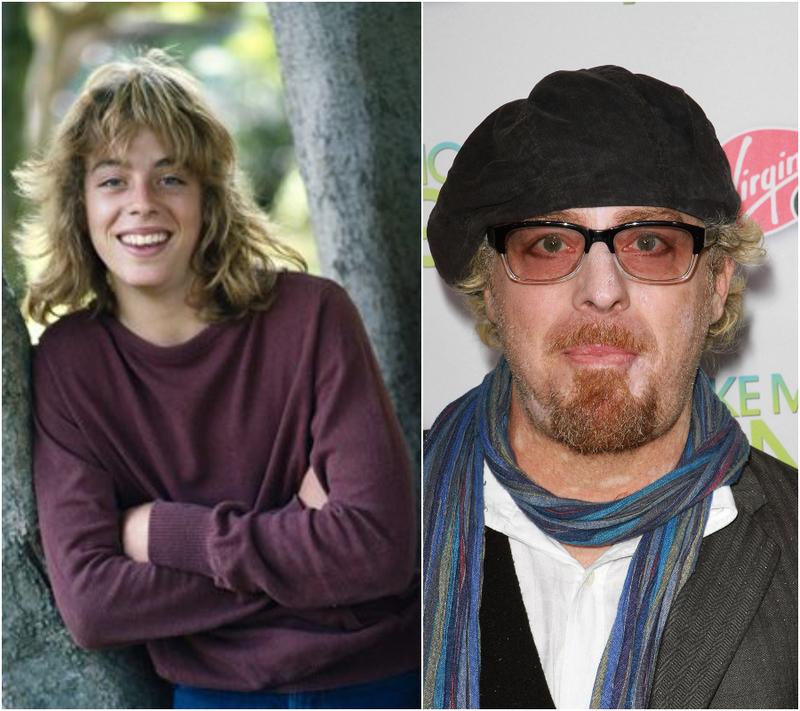 He released his first album in 1977, naming it after himself. It featured cover versions to hits from the previous two decades. His immense popularity has seen highs and lows, normally as a result of legal troubles surrounding him.
Pat Boone (1950s-1960s)

Big break: "Ain't That a Shame"

Before his claim to fame as a musician, Pat Boone enjoyed being the most popular guy in his Nashville high school and drawing cartoons for the school newspaper. He later graduated summa cum laude from Columbia University.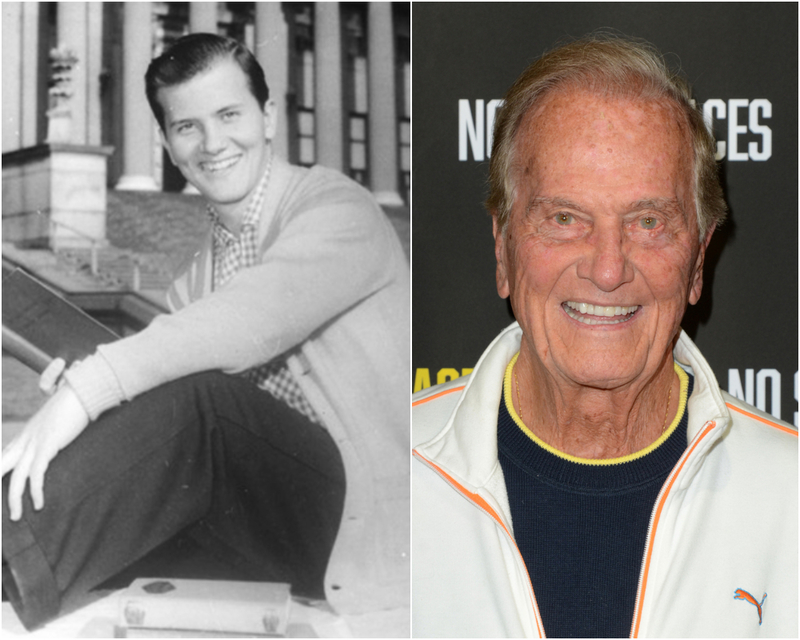 Boone recorded a cover to Fats Domino's "Ain't That a Shame" and soon became a trendsetting star. With popularity levels that rivaled Elvis Presley's, he later branched out to acting, writing, philanthropy, and activism.
Sally Field (1970)

Big break: "Sybil"

Sally Field's career almost transcends time, so picking the peak decade of it is next to impossible. Still, she did have a pretty good run in the 1970s, topped with a 1979 Oscar. Field starred in more timeless movies than we can count, like "Forrest Gump" and "Mrs. Doubtfire."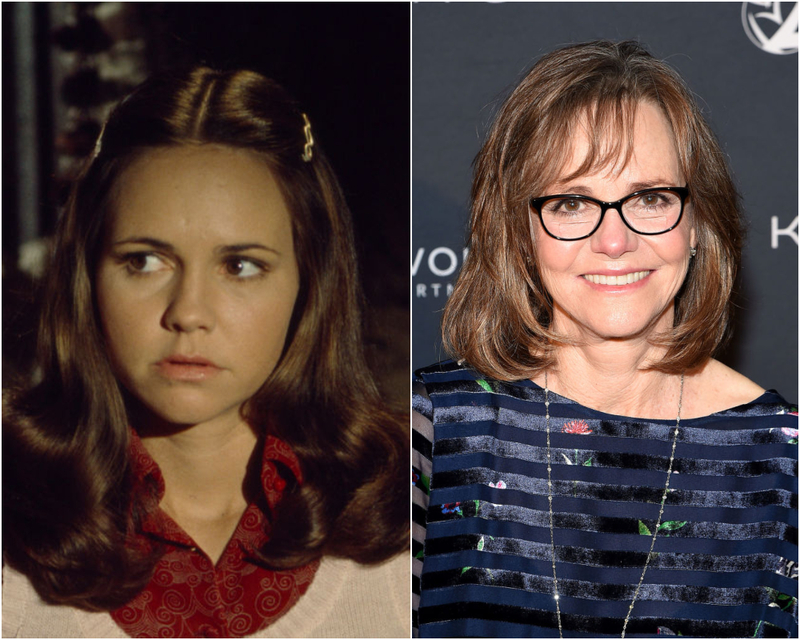 She is incredibly talented and has even performed live on Broadway! In 2018, Field published a memoir, titled "In Pieces."
Bobby Darin (1960s)

Big break: "Dream Lover"

Guys wanted to be Bobby Darin, and girls wanted to be with him. This New Yorker started out in Holywood as a lyricist for star Connie Francis. He came to his own and saw success as a musician with songs like "Beyond the Sea," "Dream Lover," and "Mack the Knife."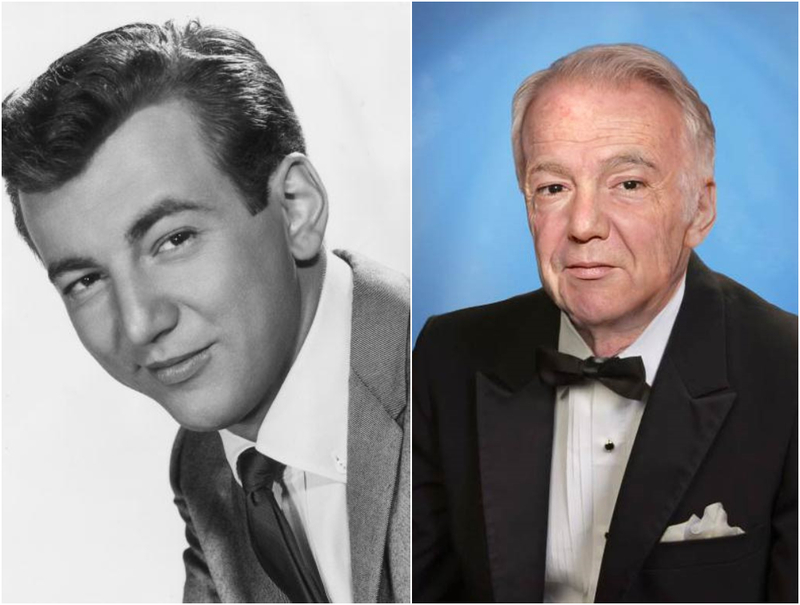 Bobby's career skyrocketed, making his face worldwide famous. It took a dip, however, when he found out the truth about his birth mother — whom he thought was his sister his whole life. Darin's unfortunate passing was in 1973 due to heart problems. He died at 37 – but in the picture, you can get an idea of what he would have looked like if he lived longer.
Marie Osmond (1970s)

Big break: "Paper Roses."

Believe it or not, some Osmonds weren't in the family band. Marie Osmond became famous as a solo artist in the 1970s. Her most famous song was "Paper Roses," a cover she did of Anita Bryant's song. She went on to co-host her own show with Donny, her teen idol brother.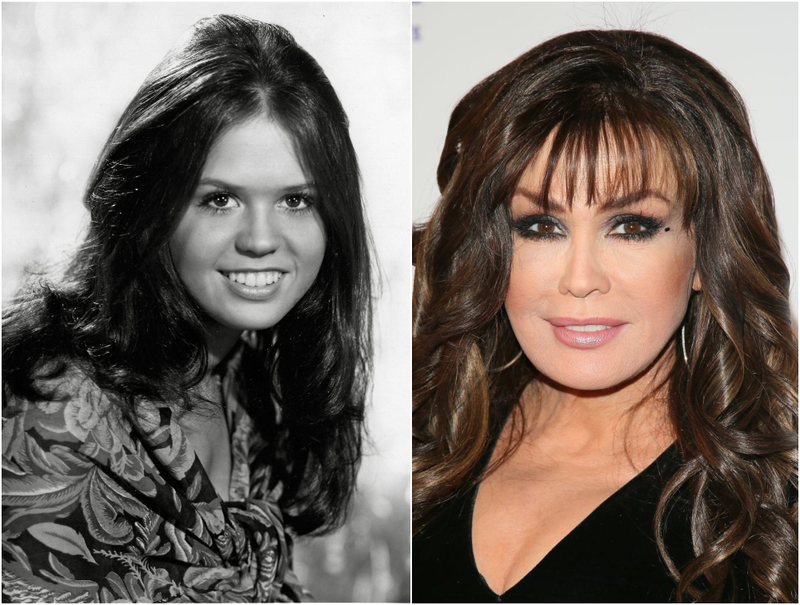 Marie gradually transitioned from music to TV. She competed on "Dancing with the Stars" and joined Carrie Ann Inaba, Sharon Osbourne, Sheryl Underwood, and Eve as a regular panelist on the show "The Talk."
Robby Benson (1970s)

Big break: "One on One"

Throw a dart at a big sheet of movies from the seventies, and you're likely to hit Robby Benson. Let's see; he's been in "Jory," "Jeremy," "The Rothschilds," "One on One," and "The Chosen," to name a few. He was also in "Search for Tomorrow," a show running 71-72.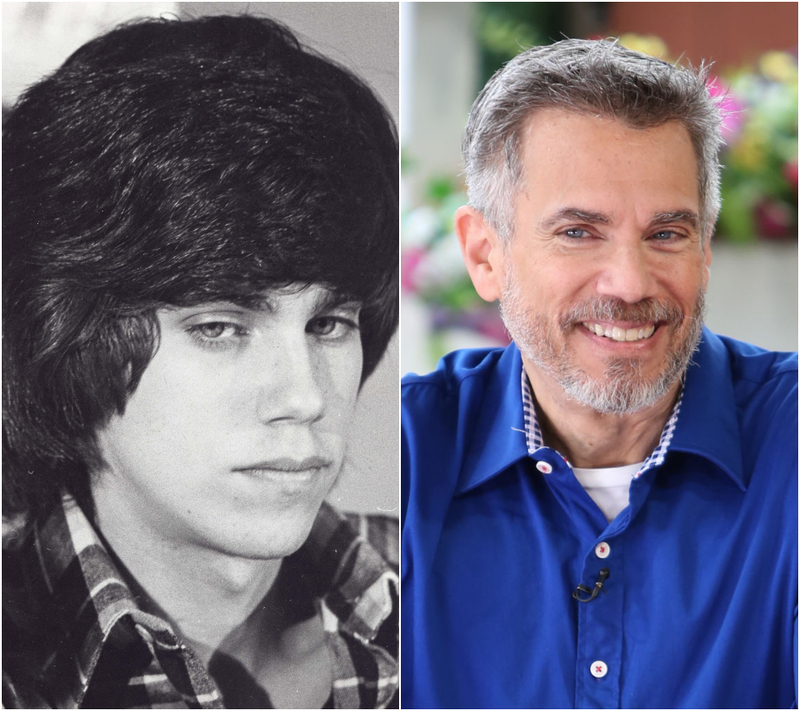 You almost certainly know Benson for the voice-work he did for Disney's "Beauty and the Beast." What character was he? Why the Beast himself! Surprisingly, most of the projects he has worked on in the past two decades don't involve live acting — he makes music, does voice acting, directs, and has even published books!
Peter Barton (1970s)

Big break: "Shirley"

The short-lived TV show "Shirley" ran for a very limited time, but it still made Peter Barton a star. He was soon cast on a much bigger role in the show "The Powers of Matthew Star."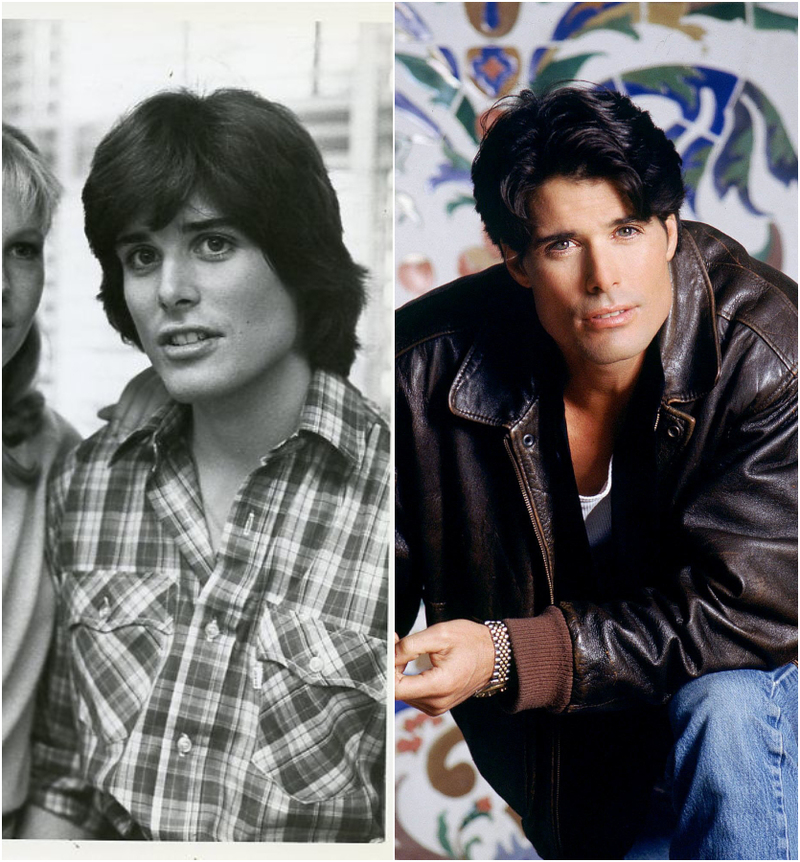 Barton's popularity extended well into the 80s and won him numerous fans. In a weird turn of events, one of his most devoted fans bequeathed him a substantial fortune when he passed away, making him $1.3 million richer.
Lesley Gore (1960s)

Big break: "It's My Party."

Lesley Gore became famous at the tender age of 16 when her hit "It's My Party" would play non-stop in every radio station possible. With the right look, voice, and attitude, she had the full package, which did not go unnoticed by her many US fans.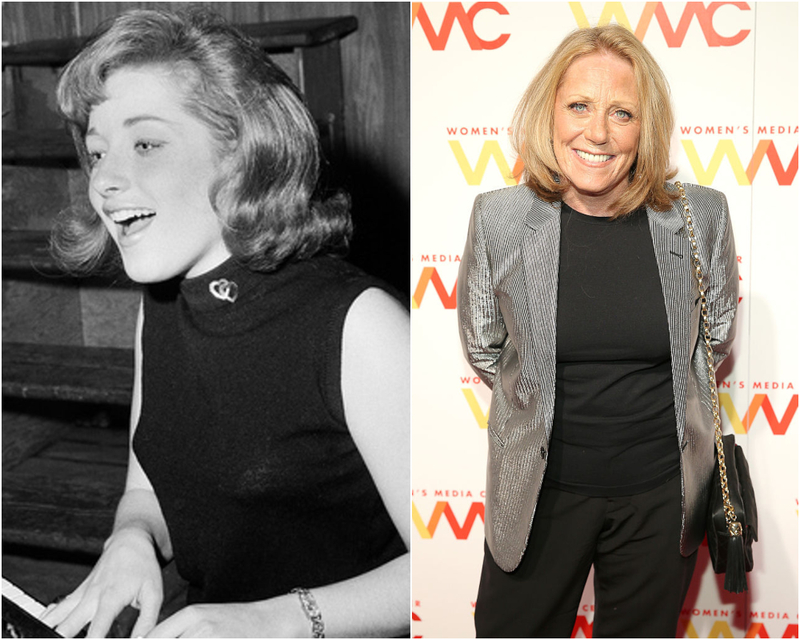 Gore had an over 20-year-long commercial success before she decided to turn to music composition. She worked on the soundtracks of famous films such as "Grace of my Heart" and "Fame." The star later came out of the closet and with her partner — a jewelry designer named Lois Sassoon. The two were together for more than 20 years. In 2015, Gore passed away after battling lung cancer.
Ron Howard (1970)

Big break: "The Andy Griffith Show"/"Happy Days."

Many child actors are prone to depressions or problematic behaviors as adults, but it seems like Ron Howard skipped that part. His acting career started when he starred in "The Andy Griffith Show" as Opie Taylor. He later got another famous role on "Happy Days" as Richie Cunnigham.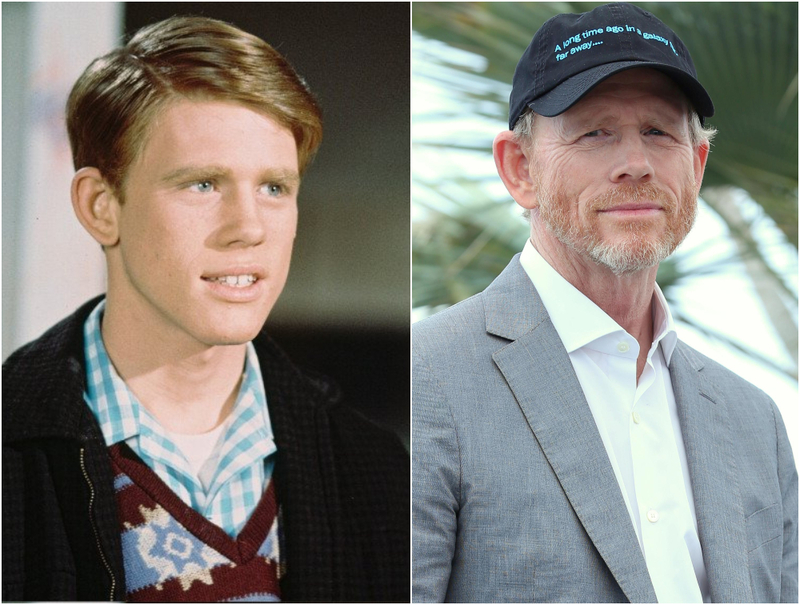 In the 1980s, Howard started directing, which brought us other cinematic masterpieces such as "A Beautiful Mind," "Willow," and " Apollo 13." At 66 years old, Howard is an inseparable part of America's acting legacy.
Shelley Fabares (1950s-1960s)

Big break: "The Donna Reed Show"

Shelley Fabares started her career as a 10-year-old child actress. She was very young but still managed to steal the show in "The Donna Reed Show." Despite her saying that she can't sing, teens couldn't get enough of her, which led her to try her hand in music anyway.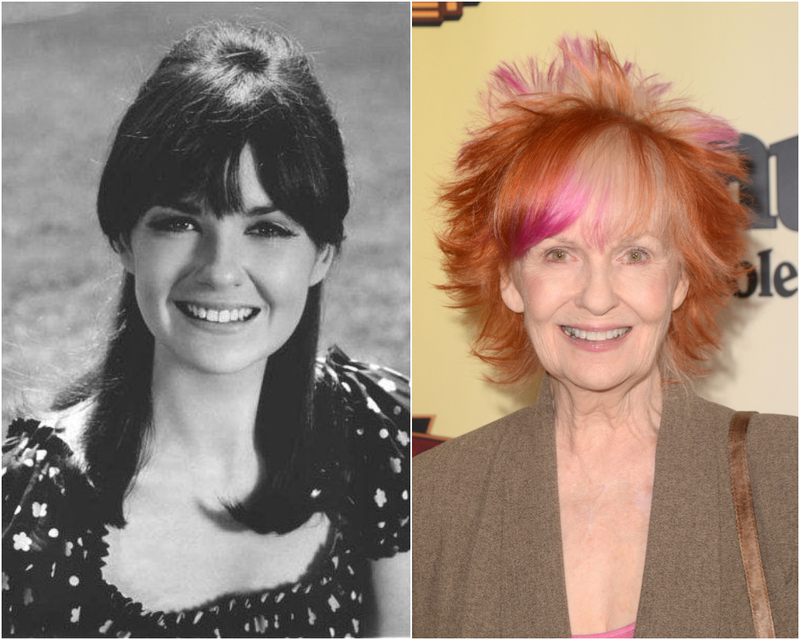 Fabares had a short-lived marriage to notorious producer Lou Adler after which she married her current husband, actor Mike Farrel. She never stopped acting and even produced the SAG Award show from 2004-2011.
Paul Anka (1950s)

Big break: "Lonely Boy"

One of Canada's most precious, Paul Anka is one of the most famous songwriters of his (and our) time. Two of his greatest hits are "Put Your Head on My Shoulder" and "Lonely Boy."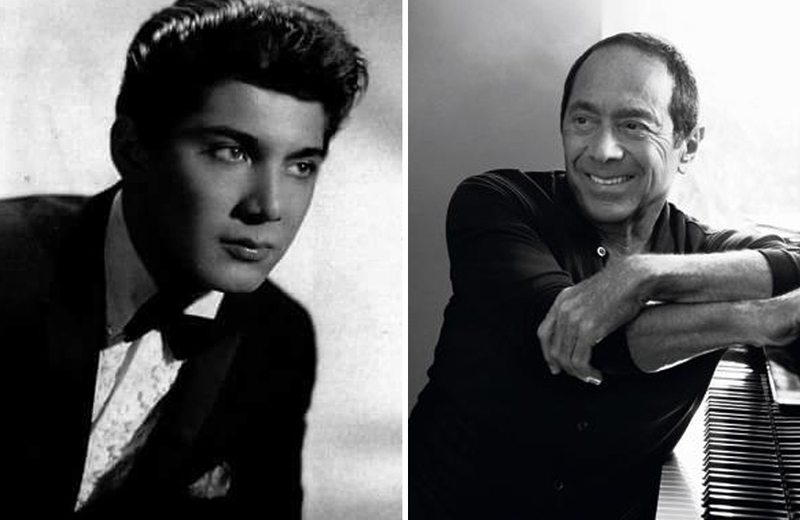 Anka was born in Ottawa and got his big break thanks to his uncle, who lent him the $100 he needed to record his first song at 14 years old. One of the biggest names in the 1950s, Anka is still active. In 2009, Anka said that he co-wrote Michael Jackson's hit "This Is It" and was awarded %50 in royalties.