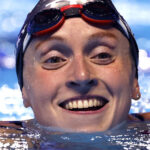 Katie Ledecky: The Untold Truth Of The Olympic Swimmer
echo get_the_meta(); ?>
Third time's the charm, or so the expression goes. For swimmer Katie Ledecky, who already earned six gold medals and one silver at the Olympic Games in 2012 (London) and 2016 (Rio), that could mean winning five medals at the pandemic-delayed 2020 Tokyo's Olympics (including the 200-, 400-, 800- and 1500-meter freestyle races), starting on July 23 (per Team USA). 
The 24-year-old started the sport at age six in a summer swimming league at the Palisades Swim & Tennis Club. Her grit became apparent early on when the youngster got swimmer's ear. The doctor told her to bow out of the last summer meet, but Ledecky had other plans, reported Sports Illustrated. She still hadn't reached her goal of swimming to the end of the 25-meter pool without resting. So Ledecky put cotton in her ears, donned a swim cap, and showed up. "She swims the 25 free, doesn't stop, and she felt so good about herself," her mother said to the publication. "I said, 'Should we go over to Panera and get a hot chocolate?' She was so excited."
A love of the sport ran in the family. Her mother, Mary, who competed during college at the University of New Mexico, and her brother Michael also swam. They all lived together with dad David, a lawyer in Bethesda, Maryland. Ledecky also found inspiration in Michael Phelps' career — long before they became teammates in 2012 — and when she was nine, attended one of his autograph signings, according to Yahoo! Entertainment.
A phenom slowly rises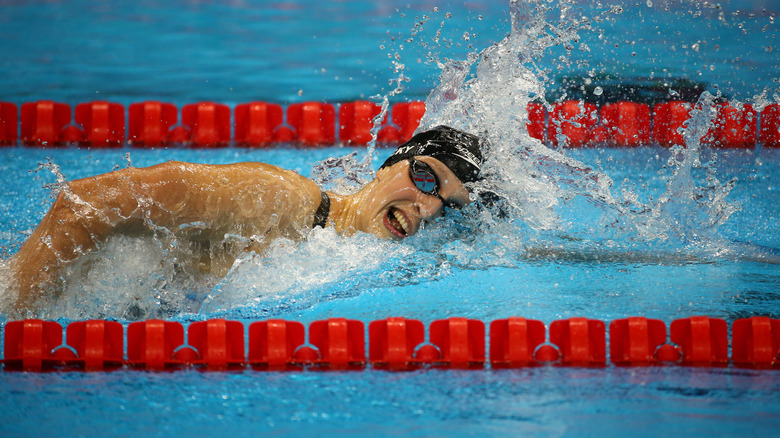 Shutterstock
Ledecky qualified for the London Olympics at 15 — the youngest U.S. athlete, said Hollywoodlife. She won a gold medal during the 800-freestyle event, coming close (8:14.63) to breaking world record holder Janet Evans' 8:16.22 time, reported Swim Swam. 
She attended an all girls' high school, Stone Ridge of the Sacred Heart, where she broke all its swimming team records, except the 100-yard breaststroke, reported Ranker. While there she also trained with the Nation's Capital Swim Club first under Yuri Suguiyama and then coach Bruce Gemmell, who prepared her for the 2016 Olympics in Rio (pictured above) (via The Famous People). During her formative years Ledecky maintained the same disciplined training schedule, said ESPN: a 4:05 a.m. wake-up; consumption of a toasted peanut butter sandwich and a banana before practice, followed by 90 minutes of swimming; then another five-mile swim once school finished.
At the Rio Olympics she won four gold medals, broke the 800-meter freestyle world record, and at 19, still remained the youngest on the team, said the New York Post. "Katie does not have all the tools that some others have when it comes to technique," NBC swimming analyst Rowdy Gaines said to The Post. "What she does have is an incredible feel for the water, from her fingertips to her elbow, and uses that as a paddle, which others cannot tap into. In other words, she was built to be one with the water where others are adapting to be in the water."
Finding herself at college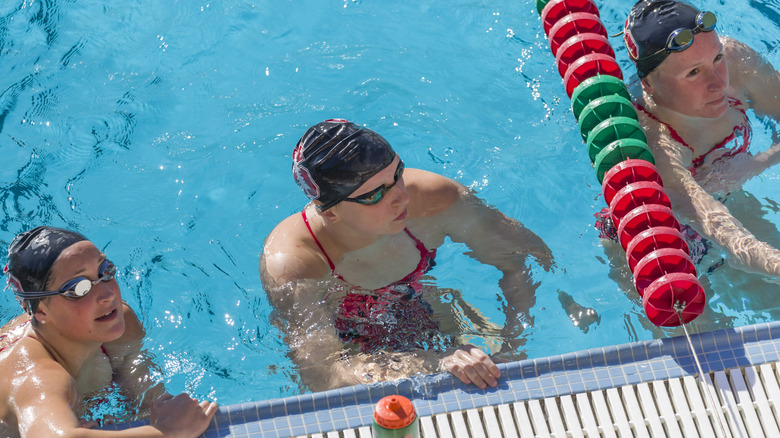 David Madison/Getty Images
Ledecky also has a record-breaking 15 gold medals from the World Championships, the most-awarded female swimmer ever, according to her website. She also has broken 14 world records and 37 American recoreds. Coach Gemmell credited the success she's achieved to her enormous drive. "She certainly is so down-to-earth and so normal. But she's also competitive in about every single way, in every single thing she does every single day. And that's a pleasure to work with," Gemmell told WTOP. 
She began attending Stanford University on a scholarship in 2016 after deferring admission for a year, according to Ranker, and trained with swimming coach Greg Meehan. Despite her world champion status, it became her initial experience with adulting — the first time she lived by herself. She also learned how to cook and pay a bill. "I have moments where I have to pinch myself," she said on the latest news section of her website."There have been times on campus and it feels a little surreal that I go to school here." 
As a swim team member, she broke records from the start, according to the Maryland Commission for Women. Her first fall at Stanford saw her set two new American records, and she also surpassed five NCAA times.
Graduating and the Olympic trials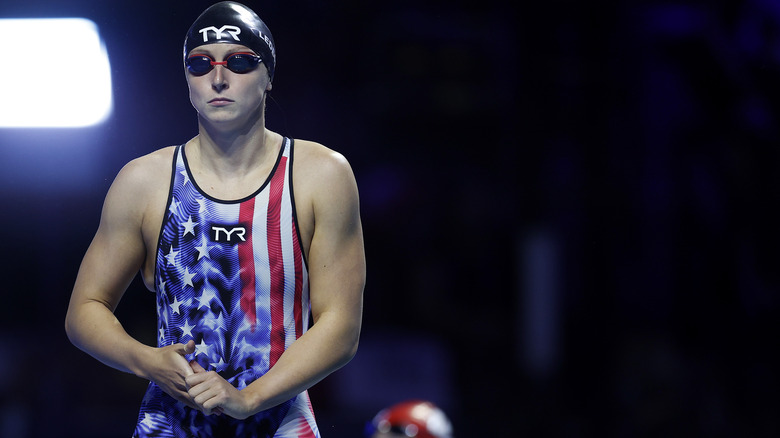 Maddie Meyer/Getty Images
Training during Covid-19 proved challenging. Like many, Ledecky began taking her psychology and biology classes on Zoom, according to Stanford Daily. "I'm keeping my mind busy, which I think has been helpful," she said to the publication. The worst part, though, was the social distancing; Ledecky couldn't see her family and made do with platforms like FaceTime for sharing holidays and life experiences, according to the Insider.  
When Stanford University closed its pool facilities because of pandemic protocols, she resorted to using the backyard pool of a "kind family" and random exercise bands and dumbbells she had for training. When the 2020 Olympic Games were postponed, Ledecky refused to despair. Instead, she remained positive and trained more so she could be "more prepared next year than I would've been," as she said to the publication. She also took extra courses and finished her psychology and political science degree from Stanford by the end of the 2020 fall semester, graduating in the spring of 2021. Ledecky, who was at the Olympic Swim Trials at the time, celebrated at the pool in Omaha by wearing a cap and gown over her swimsuit, according to WOWT.
A giving personality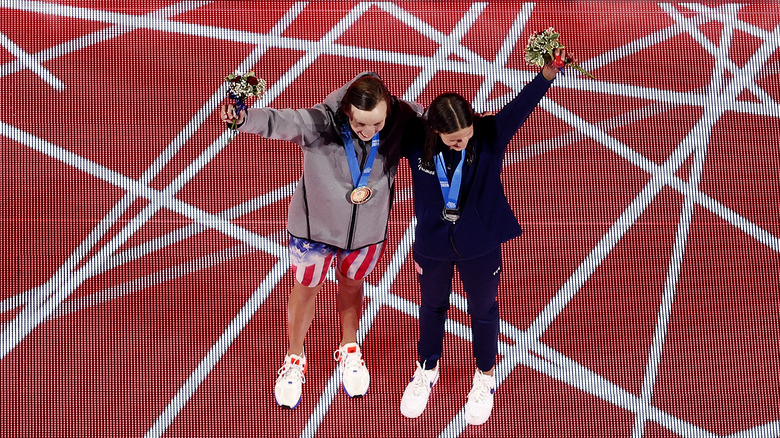 Tom Pennington/Getty Images
When she's not breaking records, Ledecky likes to give back. She credits her Catholic upbringing, according to Bustle, with giving her a "strong core" and a caring heart nurtured by her time at Stone Ridge School of the Sacred Heart, where students were encouraged to help people in the community through a social-action program, reported the Washingtonian.
She is involved with many charities, including Catholic Charities, Shepherd's Table (a soup kitchen), Bikes for the World (a nonprofit that gives bicycles to individuals in developing countries), and the Wounded Warriors Project at the Walter Reed Medical Center, according to the Maryland Commission for Women. She started working with some of these while she was still in high school, where she was the co-leader of the school's campus ministry program and organized school-run liturgies, retreats and prayer services, according to Crux.
Ledecky also likes to support the success of those around her. As 15-year-old Katie Grimes competed in the Tokyo Olympic Trials, Ledecky told her, "You're the future," when she came in third for the 1500-meter freestyle race, and after she placed second in the 800, the champion told her (pictured together, above), "You're the now," reported Swim Swam.
The future looks bright for this Olympian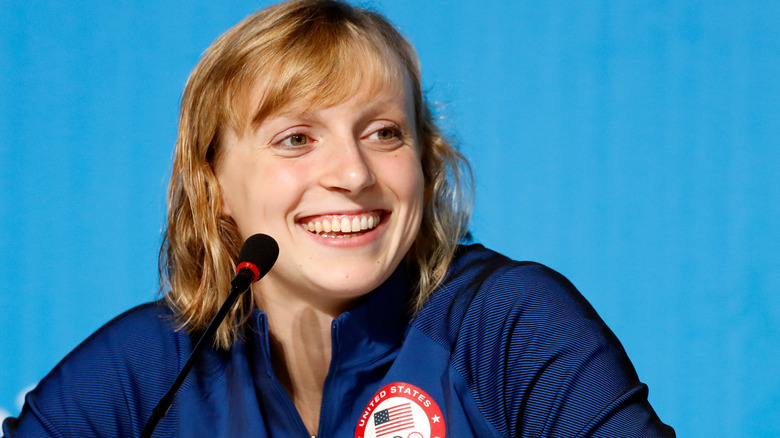 Shutterstock
The Tokyo Games is Ledecky's first Olympic outing as a pro-swimmer. She chose to attend Stanford University and swimming for the school's team instead of taking the $5 million in endorsements she was offered after her victories at the 2016 Rio Games, according to Business Insider. In fact, Celebrity Net Worth lists her current assets at just $4 million.
But since 2018 when she turned pro, according to The New York Times, she has faced new financial terrain. She decided to leave amateur sports behind her after achieving so much at Stanford. The newspaper reported that Ledecky helped Stanford earn their first NCAA team championship in 19 years and in the two years she played for them, she got eight NCAA titles, smashed 11 American and 15 N.C.A.A. records, all while maintaining a 4.0.
Since becoming pro, Ledecky received a $7 million contract from TYR, a swimwear company, reported Yahoo Finance. She also represents Adidas as a brand ambassador and has endorsement deals with Panasonic and Visa. "I'm really committed to partnering with brands that I believe in, that I use their products, I like their products, and that are making a difference in the world," Ledecky said to the website.
The Tokyo Olympics runs from July 23 to August 8.